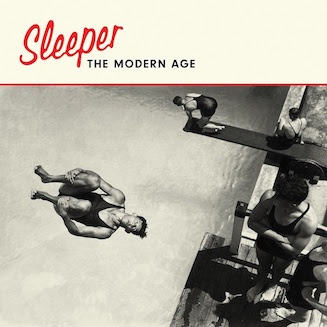 Listening to the new album it is clear Pixes are one of their main influences. The opening track Paradise Waiting has a very much late 80's/early 90's sound to it, with a youthful almost cliché' chorus. It opens the album like a band starting in late teens would trying to break onto the scene. Yet this is 40-year olds trying to make a comeback.
The second track and first released single to the album 'Look at you now' reminds me very much of an early single 'Alice in Vain' with the chorus belting lyrics the out "You're running out of things to wear" in terms of lyrical content it does not show a lyricist that has matured. This is by no means to say that the song is not going to be great for old Sleeper fans, to hear a very much similar sound to twenty years ago is more than often what fans want to hear. It is undeniable the guitar behind most of the track is great, the solo its self brings the track back from a slight bore to an acceptable comeback single after 22 years out of the recording game.
Sleeper had a wild five years of fame in the mid 90's, with eight top ten singles in the UK. Louise Wener (Lead Vocals/guitar) and Jon Stewert (Lead Guitar) met in our home city Manchester while both in a political philosophy class. They had jammed together in Manchester in several bands but once graduated moved to London to find a platform to let music become their lives and find bigger gigs.
They advertised to find a drummer and bassist in the old Melody Maker magazine and found themselves with a band that were ready to gig. After coming to the decision on the name Sleeper they recorded three relatively unknown EP's but before their breakthrough single 'Intbetweener' they supported Blur on their Parklife album tour, leading to them being heavily associated with the Brit Pop movement.
To any big Trainspotting fan familiar with the sound track, the quote "…and with that Mark Renton was in love" is significant. The song playing in the club at that moment as he saw what would turn out to be a troublesome relationship was of course the famous Blondie song 'Atomic'.  It had to be covered by Sleeper as Blondie would not permit their version of the song to be added to the films sound track. This of course with the success of the film boosted their own success and made them a well-known outfit in the music world at that time
The band went on to release three albums, in there consecutive years, Smart (1994), The it Girl (1995) and lastly Pleased to meet you (1996) touring the world and gaining a great live reputation playing with noticeable memorable performances on the Pyramid stage at Glastonbury.
I was by no means ready to write off the album after just two tracks, as the third uses an interesting intro using bubbling synth, 'The sun also rises' is the second single to the album, in my opinion a step into the 21st century that the album needed.
A stand out to me is the short but fierce song 'Dig' with a rather similar sounding opening riff to The Brian Jones Town Massacre (Whether or not this was intended by the documentary named dig). The lyrics will without doubt stand out to not just older fans but young student listeners like myself "No regrets, just debts" are one thing I'm sure most of the population can relate to. In my opinion I can stand by and say it's radio friendly and also got the equal catch of the two singles on the album.
Also 'Blue like you' also stood out as a track on the album that had utilised some new technology in its recording. The lyrics once again very relatable to all generations. I cannot fault the guitar work at all throughout the whole album, it's very smartly wrote and manages to keep the album entertaining throughout.
I'm 23 years old myself, when this band last released an album I couldn't walk, so from the point of view of a music fan who loves all things 90's it just doesn't feel like album I'd rush to listen to repeatedly.
Slowdive, a band who after 20 years came back with an album which blew people away kept their own sound but managed to adapt to new technology and gain not just their old fans attention but build up a new younger fanbase. For me Modern Age sounds like it could have just been written in 1997 after their last three albums. I am sure old school Sleeper fans will love it but from a personal point of view it's not the comeback album I'd want to hear from one of my favourite bands of today in 2039.
Sleeper – Modern Age: Out Now (Gorsky Records)