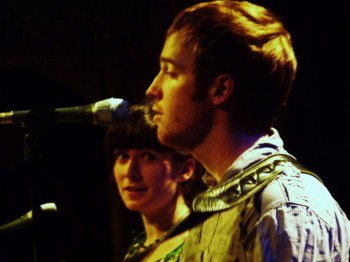 – THE CORNERHOUSE, MANCHESTER –
I would like to think I approach most new experiences with an open mind, but I have noticed a little bit of pre-judgement creeping in where certain events loom on the horizon. Unfortunately for 'folk nights' this genre has fallen into my room 101 of predictable nights out. All too often the singer / songwriter (don't forget the slash) gig genre starts to blend into a muddy merge of "woah is me" lyrics blended with a heavy dose of melancholic chords. Folk nights all too often head in this direction and the quality control of these gigs are fairly mixed.
After getting misdirected to the new annexe room in the Cornerhouse I'm trying to shake off my folk block. Feeling pretty civilised in the new and intimate room with a cup of tea, I'm checking out the folk followers here tonight. Generally older than your average Manchester gig night out (whatever 'average Manchester' is) there's plenty of couples and 'relaxed' dressing in the house. The bill is a generous helping of 3 sets: Pip Mountjoy, Christopher Eatough and Jonny Kearney & Lucy Farrell. Pip comes armed with obligatory guitar and starts to knock a few corners off the folk block. 'The Fall,' 'Louisiana' and 'Wolves' are all stand out songs that are note picked to perfection and show sincere, heartfelt lyrics. There's no false modesty or cowering behind instruments. It's quite raw, emotive song writing performed well. Pip's personality comes through and her style aptly kick starts the night off well to an appreciative audience. Whether she could work with a bigger room or bring bolder sounds holds a bit of a question mark, but early on, her career looks set for interesting development.
Christopher Eatough takes the mic with a very brave start. I've never seen such mesmerising humming! Genuinely he's surprising the crowd with no explanation or justification but launches straight into a captivating burr. We lap it up. The set list presents an interesting contrast of experience, and Christopher displays a confident and self assured performance throughout. His guitar playing is varied and mixes between complex melodies and plain ole string thrashing rhythm. An impromptu rendition of Cecilia (a song I've never had a fondness for before hearing this version) catches us off guard and giggles erupt throughout the annexe. The strongest instrument throughout this set is Christopher's voice without doubt. Deftly controlled, nothings rushed or mumbled and it cuts through anything else in the room.
The main act arrives and we get to know Jonny and Lucy early on. Chatty, warm and charming the pair are quite the odd couple. Their sound complements each other perfectly. Lucy is a violinist and has a rich, honeyed voice. Jonny is expert on guitar with a gentle, fairly high-for-a-boy pitch. The two's characters make for good entertainment, Jonny is endearingly a bit self conscious and rambly whilst Lucy is the straight talker and keeps things in line. Their songs are performed together with real story telling skill. I'm writing notes at the back during 'It's a Disease,' and get worried my pen noises could detract from the utterly riveting music coming from the front.They're singing 'Boat Project' and cock up a line and sing their mistake making it funnier and bringing the audience closer to them.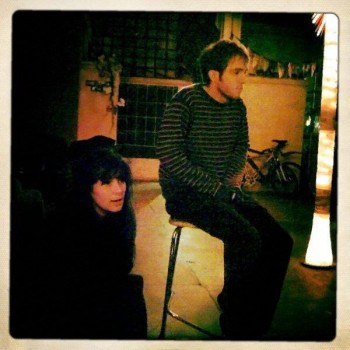 There is some really well developed song writing coming thick and fast. 'Jack and Jill' is a sweet and grown up take of the nursery rhyme, 'Little Bird' and 'Letter to Lenor' are also well crafted songs. Neither performers take themselves too seriously. Jonny admits 'Call yourself a friend of mine' is a bitter get back song influenced by Bob Dylan but 'not as good.' When we hit tuning problems on the violin Jonny fills with self confessed 'bad jokes that I made up.' God said to Moses 'Come forth and you'll enter the kingdom of Heaven. Come fifth and you'll get a toaster. What's a bear with no shoes or socks called? Bear feet. Ok he did give you some warning beforehand.
At the small chance this review might have a whiff of nepotism (check out the surnames) I did chose it because I don't find many of my namesakes and was intrigued. It turns out there's some well crafted songs and beautifully performed guitar playing. So we most certainly aren't related. (ah but the bad jokes… hmm well then again…)