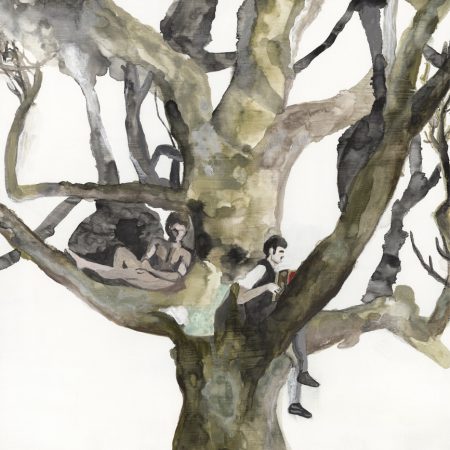 In the overwhelming majority of cases, it is easy to guess what a band will sound like based purely on its name. Without any knowledge of their respective catalogues, it would not take a genius to work out that Napalm Death were going to have a more abrasive sound than, say, Lush. However, Destroyer are an exception to this rule. Their moniker would suggest a brutally noisy sub-metal act but this would be thoroughly misleading. In a career spanning over 20 years, they have created a varied, subtle musical accompaniment to Dan Behr's obtuse observations. Maybe Destroyer is appropriate for what they do to preconceptions.
Their thirteenth album, 'Labyrinthitis' was conceived by Behr with his regular musical collaborator John Collins as a straight dance record, a Donna Summer's greatest hits for the 2020s, but the reality is more complicated. It kicks off with 'It's in your Heart Now' adorned with a Peter Hook-like bassline and glacial synths, an atmospheric but rather pedestrian seven- minute introduction to the album
The album gains momentum with 'Suffer' which echoes 'Everything's Gone Green' era New Order while the "you're gonna suffer" refrain sounds anthemic and Behr's continued capacity for intriguing lyrics leaps out: "Suffer 'neath the weight of the grandeur/…A drowning in the Trevi Fountain for no reason".
Greater heights are scaled on 'June', resplendent with slap bass, shimmering synths and a wonderful lengthy spoken outro in which 'You have to look at it from all angles/ Says the cubist judge from cubist jail' as Joshua Well's percussion becomes ever more frenetic before an abrupt end.
'All My Pretty Dresses' feels like an uncommonly straight-forward failed love song ("I'm sorry, but
Our time together's rushing to a close") which could be from the dress's perspective, beautifully arranged with plentiful twists to maintain an element of surprise.
The album's first single, 'Tintoretto, It's For You' is a magnificent beast with electro pop crescendos and JP Carter's trumpet stabs combined with another mysterious Behr monologue detailing "a last minute cancellation at the Last Supper/… the ceiling's on fire/and the contract is binding".
'Labyrinthitis' hits a lull with the title track combining stately piano with manipulated sounds like babies gurgling. In contrast, the album is at its best when at its most danceable and 'Eat the Wine, Drink the Bread' has a great bassline and an acerbic Behr proclaiming "I piss on the floor/ The band sets up on the floor/ …The whole world is a stage".
'It Takes a Thief" brings to mind Prefab Sprout in creating a pop confection with great flourishes and glad to revel in its own cleverness,
"It takes a thief to catch a thief
It takes a tree and it takes a leaf
Or maybe leaves falling to the ground
Then up in flames, another way of saying goodbye"
The quality dips with the last two tracks, 'The States' and 'The Last Song', the latter being a simple acoustic finale which does delightfully rhyme "nooses" with "news says" but it does make a disappointing end to an often-dizzying album.
Destroyer: Labyrinthitis – Out 25th March 2022 (Bella Union)