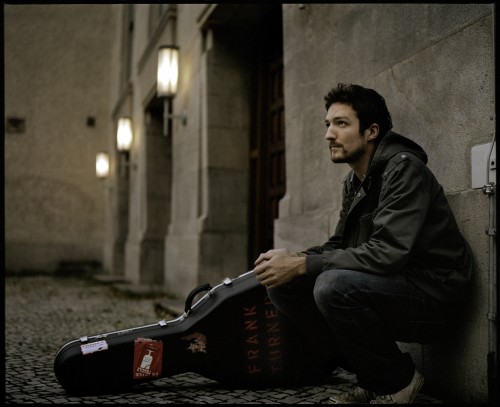 – ACADEMY 1, MANCHESTER –
It's St. Patrick's Day, and Manchester is full of students taking their disgusted first slurps of Guinness, while those used to all the faux-Oirishness that March 17th entails have crammed into the Academy 1 en masse, and are mostly holding drinks with an amber hue.
The clean shaven Chuck Ragan, frontman of the rightly revered Hot Water Music, is a construction worker in his native Gainesville, FL when he's not on tour, and he has a voice as rough as his grafter's hands. He's accompanied by a baseball-capped German double bassist and a violinist who could easily double up as Ché Guevara in full-on guerilla mode so encompassing is his facial thatch.
Ragan's Popeye arms bash away at his acoustic guitar while hoarse lyrics tumble almost constantly from his lips, obscuring the sullen melodies being eked out on the fiddle. On the few occasions that his vocal chords are given a rest, he takes to the musical equivalent of asthma – a harmonica – and refuses to let the songs breath for themselves.
Chatter flows freely from the already packed sidelines, and while he is received warmly between songs, ultimately his solo work belongs in wooden-floored bars patronised by murder-eyed truckers, Vietnam veterans and tuppenny whores.
Tonight is biggest headline show Frank Turner has ever played, either on his own or with former charges, Million Dead, and the ever-radiant songsmith is in fine fettle despite the mock-disgust shown when he admits to disliking The Black Stuff.
Always looking for a label to pin, the lazy urchins in the press pack have decreed that Turner is "the new Billy Bragg", ostensibly because of his left-leaning views, never mind their conflicting styles and Bragg's inability to hold a note. Of course, he's his own man, but one who has left his hardcore roots decidedly at the door and has chosen to plunder the path of a happy-go-lucky troubadour.
There is the odd quality hook to latch onto, yet he never veers from the very middle-of-the-road, and the depressing "it was about then that I realised I was halfway through the best years of my life" refrain of 'The Real Damage' is met as though he has seen into the soul of every twenty-something in the room who has suddenly realised that things aren't quite going to plan. 'Once In A Lifetime' it ain't, but it has a certain poignancy.
Either way, it's all too dreary for CityLifers to take, so a quick hop across Oxford Road sees us in Jabez Clegg…
Hollyoaks-Standard Barmaid: "Are you taking your drinks upstairs?"
Porridge-Standard Gigs Ed: "I dunno, what's happening?"
Hollyoaks-Standard Barmaid: "It's a Foo Fighters tribute act. It's free in now."
Porridge-Standard Gigs Ed: "Too right. What are they called?"
Hollyoaks-Standard Barmaid: "…..Tofu Fighters."
Brilliant. Easily up there in the naming stakes with Bi Jovi, Thin Jizzy and Metalliquor (which yours truly came up with, fact fans, although I actually meant Metal Licker), the Blackpool lads fight against a tide of general indifference, but they really are spookily accurate, the pretend Dave Grohl scoring full marks for his vocal apery, in particular.
In fact, they're the best band of the night by miles. Three cheers for them.