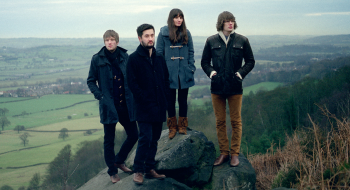 – THE CASTLE HOTEL, MANCHESTER –
Described on their website as a "very exclusive intimate gig", Ellen & The Escapades come to Manchester to road test some new songs. It feels like The Castle have tried to create a dual purpose gig venue and sauna this evening. I don't think it works too well though, it is far too hot for live music.
The first act on stage is Bells In The Birches, a duo from Manchester who look very comfortable being on stage. The style is laid back, but lead singer and guitarist Helen Riley plays on through injury in true rock n' roll style. The injury may only be a paper cut, but I think it counts. Closing song 'I Am A Soldier' is my favourite of the set and I'd recommend giving it a listen over at their Soundcloud page.
Another Manchester band take to the stage next. Bird To Beast continue the laid back style as they play some acoustic folk. Generally quite slow and quiet, there are some exceptions to this rule. Both 'Misery' and latest single 'Elephant' sound like they could have come out in the 1970s. I had visions of characters from the Rocky Horror Picture Show singing along. Married couple Sam and Hannah Hird share lead vocal duties and they both show great ability in the role.
As we wait for Ellen & The Escapades to take their place on stage, each member first has to fight through the crowd with their instruments. Having finally got themselves set up they decide against fighting back out and get straight on with playing songs.
It looks a little claustrophobic up there with five members on stage. It's fortunate that bass player Gary Stewart plays left handed otherwise it may have been even more difficult to fit them all on. The opening track is a song I've not heard before, but despite being new it does a good job of starting the show.
Single from 2011 'When The Tide Creeps In' is second up in a set that features a mix of old and new songs. Both the old and the new get a good reception from the sold out crowd. Next track 'This Ace I've Burned' from debut album All The Crooked Scenes sees Ellen retrieve and play harmonica. My favourite introduction of the night belongs to the title track of the album. The heat of the room has not gone unnoticed on stage and Ellen introduces it announcing she can "Feel her hair getting curlier".
The harmonica makes a return for 'I Just Can't Love You Any More' and despite the temperature continuing to rise everyone seems to be having a good time. While introducing song 'I'll Keep You Warm' we discover that the band has only once before played a gig this hot.
A few songs later we're informed the next song will be the last. This is a small room though, and someone down the front points out we can see the set list and there are two more songs listed. Sure enough, after 'Come Back Home', the band claim "You've twisted our arm" and finish the performance by playing the final two songs they have prepared.
It's been another good night of live music on the Manchester scene and all the performers played their part. Ellen & The Escapades debut album is good and based on the new songs played tonight I see no reason why the next couldn't be even better. One thing is for sure though, as a live act they're certainly worth venturing out to see.
Ellen & The Escapades  Official | Facebook | Twitter | Soundcloud