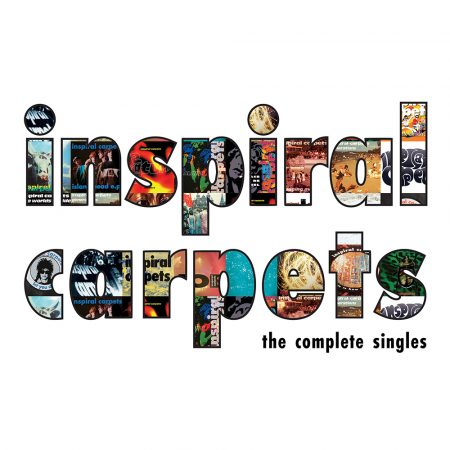 There are certain bands whose music has the power to transport you back to a particular point in your life, all it takes is a few notes, and your mind drifts into nostalgia, the days and nights out, friends you knew back then. Listening to 'The Complete Singles' by Inspiral Carpets I'm instantly back in my teenage years in the early 90's, with those swirling Hammond organ riffs, melodic guitars and memorable vocal lines. Inspiral Carpets may have been catapulted into the limelight as part of the Manchester music scene of the early 1990's, yet these five lads from Oldham were creating their sixties inspired tunes from as early as 1983. Like all of the bands that were propelled into the public consciousness as part of the 'Madchester' scene, they had their own distinct sound, driven by Clint Boon's psychedelic Hammond organ riffs, and a great ear for crafting quality guitar tunes.
This singles collection brings together all their twenty four singles released to date plus remixes from the likes of The Go Team, Justin Robertson and more. Early singles such as 'Keep The Circle Round' from 1988 brought an instant blast of swirling indie psychedelia, alongside other shimmering guitar tunes such as 'Joe' and 'This Is How It Feels'. Later singles such as the mid 90's exuberant 'Saturn 5' and the frenetic melodies of 2011's 'You're So Good For Me' prove their writing skills weren't necessarily confined to any scene or decade. 
They're also a band who enjoy calling in their musical mates, most notably in the form of the brilliant 'I Want You' from 1994 with the unmistakable vocal snarl of The Fall's Mark E Smith joining in on vocal duties "My heart is set harder and harder, the chance of defeat is not in my nature" Smith and vocalist Tom Hingley defiantly sing.
2015's 'Let You Down' with John Cooper Clarke is another astounding collaboration, and proof that the band had an intuitive grasp of which vocalists to work with for a particular song. You couldn't imagine anyone else but Copper Clarke's beautiful Salford tones fitting in as seamlessly "I'm on your back cos time ain't pliable call out the quack, Dr Reliable" he claims over a melting pot of hypnotic Hammond riffs and pounding drums.
What's really intriguing is the sheer amount of absolutely cracking tunes they've left off here, simply because they weren't singles. I guess the clue is in the title of the compilation, yet you've got songs such as 'Directing Traffik' and 'Sackville' both outstanding album tracks from 1990's 'Life' album with elements of social commentary charging through their core and proving The Carpets were always much more than a singles driven pop band. 
In terms of the remixes on here 'Caravan No Windscreen' remix is one of the better ones as it takes the psychedelic element and plays with it, to create a trippy cocktail of dance infused psych, as does the 'Generations Denmark 2 Germany 0' remix, which isn't a million miles away from The Orb's electronic wizardry.
Drummer Craig Gill sadly passed away in 2016 and it's testament to the enduring power and quality of those danceable drumbeats, matching the melodic swagger of the tunes, which helps to maintain the enduring appeal of the band. There's the fans who were there when the band exploded into the musical limelight, yet there's a younger generation of music fans, who weren't even born when The Carpets were gracing the front cover of the NME, who have also discovered their brand of woozy indie over the years and taken it to their hearts. Whether you're on board already or just dipping your toes for the first time into the musical waters of this legendary band, 'The Complete Singles' is both a great reminder of their genius and a great place to start on your magic Inspiral Carpets ride.
Inspiral Carpets: The Complete Singles – Out 17th March 2023 (Mute Records)
Inspiral Carpets (now reunited with original vocalist Stephen Holt) tour the UK this year and play Manchester's Albert Hall on 1st April 2023.