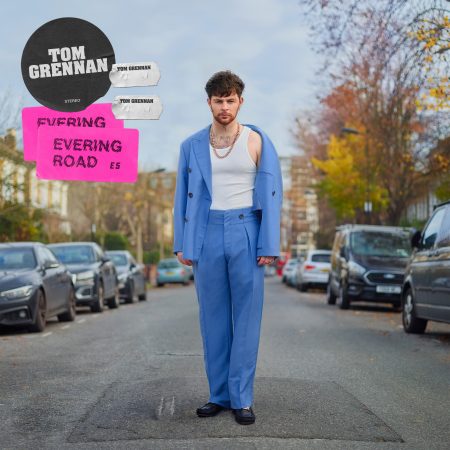 When I say the name Tom Grennan, what do you think of? A lot may say "oh, he had that great tune on FIFA," and you'd be right, but many wouldn't be able to name another song from the Bedford born artist. But, things change quickly, as 'Evering Road' marks a sea change for the singer-songwriter, and marks a departure from the sounds of 'Lighting Matches' to making one of the most exciting pop-albums of the year.
'Evering Road' marks a more commercial sound for Grennan, but that doesn't mean he is going to start pandering with trite homogenous pop music that you usually find in the top 40. 'Evering Road' infuses pop, soul, gospel, and the odd tinge of hip-hop to set Grennan apart from his pop counterparts, along with a powerful voice that stands out in a force- nine gale.
From the infectious soul-pop of 'Something Better' to the shapeshifting 'Amen' it seems Grennan is sticking firmly to this creative direction. Some tunes are more commercial than others, like 'Little Bit of Love' which is very likeable but doesn't have as much personality as some of the other cuts here. 'This is The Place' manages to pack emotion and euphoria in spades, with Grennan lamenting a lost love, and wishing he was somewhere else.
There are deep cuts like 'Sweeter Than' with its finger-clicks, soul backing singers and pop production that makes it one of the standout moments of the entire record. The only song that falls flat is 'Let's Go Home Together' ft. Ella Henderson, which fits on the record, but the clash of vocals drown the song and doesn't allow their voices to breath. For all the energy that a lot of these songs on the album contain, they also contain a deep sadness. 
The album is named after the street where Grennan and his now ex-girlfriend resided, and with songs like 'Second Time' this clearly shows, with lyrics like "Let you fall in love for a second time, haven't found a way to drink you off my mind, I should let go, God knows I've tried, so won't you fall in love for a second time." 
While his lyrics may not be the most complex, Grennan makes up for this with heart on the sleeve songwriting reminiscent of early noughties Coldplay and a voice so powerful you could hear it for miles. 
Moving away from the blues influences of his first record to a broader second album full of personality, heartbreak, and soul, even with the odd misstep here and there. 
Take a walk down Evering Road, you won't regret it.
Tom Grennan: Evering Road – Out Now (Insanity Records)