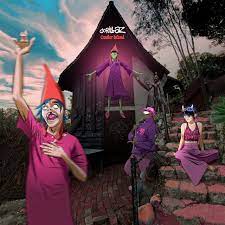 A first post-pandemic album by the group avoids market rollouts and a concept-heavy narrative in favour of showcasing the band's effect on pop's today and tomorrow, to include a strong new future. 
I finally won! I finally did it! I listened to a Gorillaz album and absolutely loved it. Involving nuance features that arguably differ in genre to the typical 'feel good inc' sound that the Gorillaz battle for. Tame Impala, for one, is a feature that blew up the hype for 'Cracker Island' with their track 'New Gold' – Tame Impala being famous for an indie funk that is orchestrated with jazzy sounds (cue jazz hands), it features Tame Impala's dreamy voice and Bootie Brown's throwback lyricism while Stevie Nicks adds value to the ecstatic fuel by singing over good electrical properties about "interlocking cluster bombs", whereas the title track, which has Thundercat's bass, has a nightclub ambiance.
I would go ahead and say this musical friendship and love for working alongside one another, is one way in which music being all over the place bonds together. The word "cracking" settles in nice now. I love the effective reminder serving as the origins of much of today's boundless thinking.
Psychedelic pop and reggaeton is how I would describe the angle of 'Cracker Island'. Various colours blow out an almost psychedelic trance into your eyes. Cracker Island is a place to be. But can you still recall, the time we cried to hypnotic bangers like 'Dare', 'Melancholy Hill' and 'Stylo'? Cracker Island almost feels like a robbery of those moments as I am pulled away from the past and now concerned for the future and present, in an opinion, which I hope you share with me, the whole album is a new Albarn. 
This new musician showing more than typical diversity in the genre the Gorillaz are a part of. Fatoumata Diawara was part of the previous lockdown album 'Song Machine, Season One: Strange Timez'. Now, it is Bad Bunny who is blowing up on Spotify averaging almost double monthly listeners that the Gorillaz themselves. Bunny is featured on the track 'Tormenta' and remains to be my highlight tune of the album as someone who used to study Spanish that 1. The throwback in my thoughts felt like a hallucination in my mind of good times 2. The rough translation whilst listening got me to "take advantage of me today, I'm leaving tomorrow" and "I don't know when I'll come back if in your eyes' I get lost". Beautiful lyrics. 
Gorillaz tackle the concept of religion too! Themes of cultism in the art, lyrics and the sounds of the album are easy to pickup on. How the track list WORKS TOGETHER, the lyrics often use a lot of grouped pluralism like "they taught themselves to be occult" and "we" in translation from "Y nadie lo pidió, pero estamo's aquí" (and nobody asked for it but here we are in translation). 
'Cracker Island' is in ways a beautiful album to help reminisce about the good and bad times.