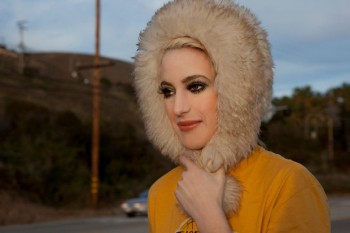 Beth Jeans Houghton & The Hooves of Destiny have announced details of their new single 'Atlas'. Set for release on Mute on 23 April 2012, the single will also have a special Record Store Day release on 21 April.
The brilliant, black-and-white video was directed and produced by Beth's friend Juan Iglesias in Los Angeles, where Beth has spent much of the year. It stars actress Brenda King (and a rabbit) in a clip that's part stop-motion animation; part film noir and part Benny Hill chase sequence. "It's special to me because of the locations used and the people involved are all friends" says Beth.
'Atlas' is the latest track to be taken from their dazzling debut album 'Yours Truly, Cellophane Nose' which came out on Mute Records on 6th Feb 2012, and will follow on from previous singles 'Dodecahedron', 'Liliputt' and 'Sweet Tooth Bird'. Described by Houghton as being a song "about change," the hyperactive track tells of two people comparing their globetrotting stories: "Dissecting the atlas for places we've been/Your list is longer but you've got more years on me," it says.
With an extensive UK tour including a sold out Hoxton Bar and Kitchen, London behind them, Beth Jeans Houghton & The Hooves Of Destiny will be back on the road in the summer, with a host of one-off gigs and festival fixtures. If you've never seen Houghton and her Hooves before, expect the unexpected: her performances are always different, always unpredictable and always wildly entertaining, her between-song chat giving an eye into the slanted world explored further in her inspired lyrics.
New & Summer Dates:
Fri 16 March, Queen Elizabeth Hall (BBC Radio 6 Music at Southbank Centre) with Gruff Rhys, Laura Marling, Lianne La Havas, PiL & Anna Calvi
Thurs 10 – Sat 12 May – The Great Escape festival, Brighton – date tbc
Sun 3 June, London, The Apple Cart
Sat 9 June, Welbeck Abbey (nr Sheffield), No Direction Home Festival
Fri 20 July, Huntingdon, Secret Garden Party
Sat 21 July, Thirsk, Deer Shed Festival
Beth Jeans Houghton & The Hooves Of Destiny 'Atlas'