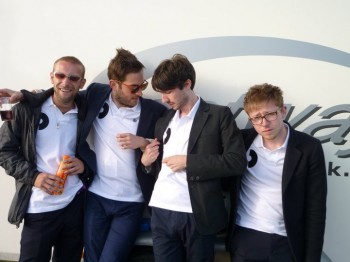 – CLUB NIRVANA, WIGAN –
Approaching Club Nirvana, I feel somewhat apprehensive, wondering what a Wednesday night in Wigan could possibly offer, a feeling which increases as I enter the half empty venue – or is that half full?
A tiered, all standing venue, I manage to nab the best spot in the house, right next to the lighting desk. The gig starts promptly with what seems like a nervous Chew Lips, the audience politely standing around the edge of the dance floor. However, they quickly settle into their set and deliver a great sound with album favourites like 'Play Together' and 'Slick'. Their nine track set seems to be over as soon as it began.
Cue the main event and the roadies frantically set about clearing the tiny stage. Almost instantaneously, the dance floor fills, and the expectant Wigan crowd start to liven up. Suddenly the venue is most definitely full.
Delphic are greeted with a rousing cheer as they take to the stage on what is starting to feel like a historic night in the capital of Northern Soul. Starting slowly and gradually winding up the tempo, the band look comfortable as they glide into their set, and when the audience hear the techno opening of 'Doubt', they are off and grooving.
The lighting tech is practically a fifth member of the band, dancing along with the music as he conducts the audience with his amazing show like a superstar DJ.
The band don't seem to stop for breath, and there is no point in announcing each track as the audience seem to know them all, so why slow things down? 'Halcyon', 'Submission', and 'Redlights' are delivered with appreciative whoops and shouts from the throng, whose spectrum ranges from the Radio 1 kids to the 6Music faithful.
An extended version of 'This Momentary' brings us to a frantic crescendo, and the audience flop, exhausted, only for Delphic to launch into the title track of their debut album, 'Acolyte', sapping the last drop of energy we have left. Then it's over, and I am left jaded and slightly confused as to what I have just witnessed.
Delphic won't be playing venues this small for very much longer. £9 for a wintry Wednesday night out in Wigan….bargain!