SXSW 2014 – Day One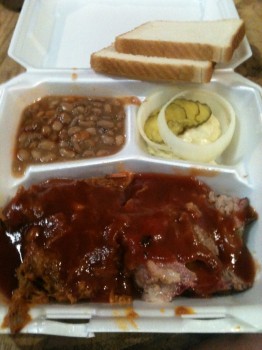 South by south west should not be approached lightly. With the seemingly endless lists of official shows and day parties, waking up on Wednesday morning after having been awake for over 24 hours previously, facing the sheer size of event is like looking out to see thousands of armed cavalry lining the horizon in front of you.  It should therefore be noted that under no circumstance should SXSW be taken on with an empty stomach. With that in mind, Magnolia Cafe on South Congress is the perfect breakfast stop, and after a hearty man-sized plate of French toast, scrambled egg and bacon, topped with maple syrup and washed down with a Bellini and endless coffee refills anyone would be ready to take on the first day.
At the Flamingo Cantina on Sixth Street, only to be described as Robinson Crusoe's local complete with pink plastic birds and fake palm trees, US magazine Under The Radar are hosting their day party and New Zealand's Connan Mockasin has clearly thought more about his wardrobe than his morning belly fill; gracing the stage in a belted cream wrap around top and tweaking his equipment he looks like Luke Skywalker preparing for battle, albeit with his shining white mane of hair which he brushes from his face. "This is my first show in Austin" he tells the crowd before proceeding with the first of his mellow cosmic funk grooves and lighter than air vocals. Ever the professional, Mockasin doesn't wish to disappoint and it's a strong set, his watchful eye on the clock in front of him ensuring he finishes with the immaculate time-keeping precision that only a Jedi would possess with a specially shortened version of a song from his first record.  It's the perfect warm up for Future Islands who are also playing their first SXSW shows this week after a recent career defining performance on David Letterman's US chat show. Silent Radio is stood next to three of the band's most enthusiastic fans, two of which tower above and bear far more hair than anyone would think humanly possible proudly declaring in unison and with what can only be described as a 'rock roar', "this is why we came to SXSW!". The smaller of the three say we "should be pumped and ready to have our mind blown" so expectations are running high. Thankfully the Baltimore band does not disappoint. Brilliantly and seamlessly fusing together synths and bass, the whole audience is nodding along, even when tech problems arise and singer Samuel treats the crowd to an acapella number. Clenching his fists and batting down on his chest so hard that the sweat sprays off, it's like watching a preacher or Morrissey possessed, his passion is clear and even if it's not everyone's cup of tea, Future Islands' commitment to rock can only be commended.
Over on Red River Mohawk is filling up; a crowd has swelled at the venue's outdoor stage and Charlie XCX alongside her all female band members, is getting US magazine SPIN's House Of Vans party fired up. Recalling the upbeat girl pop of Gwen Stefani it's a good place to be whilst milling around, grabbing a beer and waiting for the gritty girl sounds of Angel Olsen. This afternoon the St Louis singer is playing on Mohawk's indoor stage and clearly the room isn't large enough. With the crowd already spilling out into the bar, Silent Radio has to befriend a smaller music fan and she grabs our hand weaving us through the audience towards the front, just as Olsen takes centre stage. Doused in indigo light that never alters, the blue hue in a darkened room is perfectly fitting to Olsen's deadpan songs. Standing still in her denim jacket, at times she comes over like a modern day Patsy Cline, her vocals brushing shoulders with country, but paired with Cobain style lyrics and heard alongside the upbeat guitar rock of her band and Spector style drum rhythms, it's anything but traditional singer-song writing.
Adjusting our eyes to the sunshine outside, it looks as though the vitamin D levels may have slightly altered the DNA levels of Pennsylvania band The Districts who are roaring through an unruly set at Red7's outdoor patio. It's thrashy and crashy; every instrument is being played to within an inch of its life, but never without a clear melody. It would be all too easy to write them off as another boys-with-guitars indie band, but through the explosive and raspy vocals of singer Rob Grote, each track is like an adrenaline shot in the arm. The Districts are putting so much into this performance it's like it's their last and as a cymbal from the drum kit smashes to the floor we hope the paramedics are on standby because it looks like 18 year old Grote might have a heart attack at any minute. Inside French electro pop band La Femme are throwing a different kind of party. Each member of the six-piece looks like a police line-up of superhero comic book characters; exhibiting combed 'tasches, flower hair accessories, Ray Bans, crazy up 'do's and bleached blonde hair, clearly there are no rules at a La Femme soiree, and no dress code. All you need to know is how to dance to the band's stark and menacing set of high-energy tracks which this afternoon include 'Sur La Planche' and 'Antitaxi'.
Over at Clive's Bar on Rainey Street, although we don't yet know it, Silent Radio is not only about to get a lesson in the music of 50s juke joints, but also a real demonstration of how a band should perform at SXSW. Confidently strolling onto the outdoor patio stage looking seriously dapper in a sharp navy suit, silk cravat and peacock feather in his left breast pocket courtesy of party host, US gents clothing label Hagger, Vintage Trouble singer Ty Taylor is a man on fire. A band channelling the sounds of Wilson Pickett, Little Richard or Booker T, from the moment Taylor flashes his dental ad worthy smile everyone is dancing, clapping and singing along. The perfect demonstration of audience participation done well, each individual person in the crowd is being gradually won over by the electrifying front man. "Are you allowed to sing about whores in Texas?" he asks, to which everyone cheers. Not satisfied with the response he asks again, "Are you allowed to sing about whores in Texas?!"  Whether you're allowed to or not, he does. A mass sing along ensues, Taylor dismounts the stage and enters the crowd mid song, serenades the ladies and all without an element of Emmental. Ending with an encore due to chants of 'want more', the band finish on a more romantic, slick soulful ballad brilliantly displaying Taylor's incredible vocal range.
As the sun goes down, New Yorkers Perfect Pussy are warming up the crowd for Damon Albarn, Eagulls, and St Vincent's performance at Stubbs' BBQ's large outdoor stage. In spite of Perfect Pussy's loud, shambolic punk aesthetic and singer Meredith prowling around the stage dressed all in black like a wild panther, the sound of this early evening's performance isn't quite living up to the stage size and would probably suit a smaller, underground venue with her lyrics inaudible above the sheer volume of guitars and drums. Put it down to sound issues, or simply by the way she covers her microphone with both hands, but either way, it clearly doesn't do the band the justice they so evidently deserve.
After a brief pit-stop at a nearby barbeque trailer for a plate of brisket and pulled pork, Silent Radio has just enough energy left to catch a few more acts before grabbing the Night Owl late night bus home. Inside the Swan Dive In The Valley Below show potential with their gritty to-ing and fro-ing boy girl vocals whilst outdoors on the patio the singer from Lowell is writhing around on the concrete floor much to the amusement of onlookers. The teenage rock sound of Californian and Carpark Records artist GRMLN aka singer Yoodoo Park and his band can be heard all the way along Fifth Street, not just at Karma Lounge and it's an impressive racket that sounds like the kind of band that would push producer Steve Albini's buttons. Day 1 concludes with Brooklyn's Ski Lodge whose The Smiths meets The Drums guitar songs sparkle and light up Austin's night sky at Vulcan Gas Company on Sixth Street.
More pics
SXSW 2014 – Day Two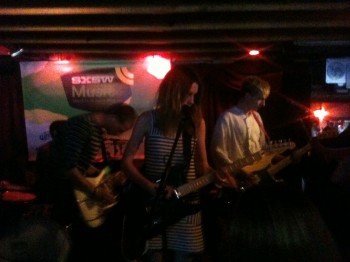 "Let's make this hot and sweaty!" shouts Wolf Alice singer Ellie Rowsell. As if day one of South By South West hadn't already left our ear drums ringing, the London four piece are determined to have their evil way on our lobes with their bass heavy and powerful anthemic rock. Playing within the small inside space of the Red Eyed Fly, it's as though each song is making the concrete floor vibrate under foot, with the band getting progressively louder and louder throughout the set. The very first time this band has played America, it's clear that they want not just Austin, but the whole of Texas and beyond to know about it. "Loud, isn't it?" says Drummer Joel Amey. We're not sure if he's taking to the bulging crowd or his fellow band mates but it gets a response from guitarist Joff Oddie; "I reckon we can get a whole lot louder than this," before stripping off his shirt. As the amps whine under the sheer enormity of feedback, Roswell gives deathly evils to the sound desk, yet it's a faultless set and marks them out as the most unassumingly sexy band of the event so far.
We're at the Red Eyed Fly for Neon Gold Records' New Shapes showcase. Whilst Manchester's Bipolar Sunshine sound check on the inside stage, Brooklyn's Magic Man play the outdoor patio to an enthusiastic response. Channelling big beaty pop via the way of Shout Out Louds or The Killers with a cheery Playdays edge, it's upbeat and gets the crowd moving but is equally inoffensive and could do with a little dirt like that which has clung to the band-t-shirt decor adorning the venue's outdoor walls. By the time Bipolar Sunshine boys take the stage our Mexican beer is going down nicely. It's amazing to see that, amongst the pandemonium of playing numerous shows over the space of just a couple of days, singer Adio Marchant is so chilled out. Gently introducing us to each song and regularly checking on the crowd, no one would guess that this was the first time he had set foot in the US. From imminent album track 'Deckchairs and the Moon' to hit single 'Rivers', each song casts a hazy dreamlike gauze over the crowd through the accomplished band's warm guitar lines and infectious rhythms. "That's jazz right there!" exclaims one of two punters, clearly hit by the sunshine and who can't believe their luck at stumbling upon such sight and sounds. Packing even more punch than their recordings, it's a set that only dangles the carrot further for the forthcoming debut album.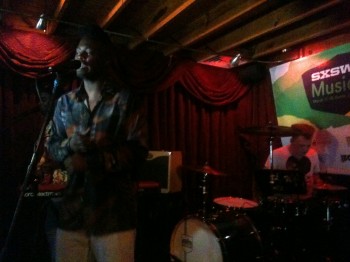 After being greeted by a snaking queue wrapping itself around the whole of the Hotel Vegas building following one seriously bad decision to trek over for Austin Psych Fest's Levitation event, a good 30 minute walk from our current location, we decide to hotfoot it back to Buffalo Billiards pool hall on Sixth Street to await the sounds of The Walkmen bassist Peter Matthew Bauer showcasing his new solo material. Playing a selection of songs from his forthcoming debut album Liberation! coming out on Memphis Industries, Bauer himself is an explanation for precisely why The Walkmen are so revered; if each band member can boast song writing prowess such as this, the cumulative output can only be nothing short of genius. Simply suited in black blazer, trousers and white shirt his fittingly throaty vocals rasp through acoustic lead folk rock songs, but bolstered by a 7-piece backing band and singers, shines with the sound of a younger Springsteen.
Across the street, Carpark Records are hosting their official evening showcase event Parish Underground. In its lavish setting Toronto band Greys almost blast the wallpaper from the walls. From their first chord our ears have fallen off through the sheer volume of the machine gun guitars. It's not quite metal, but is pretty close being punk rock with a devastating effect. Unfortunately the venue's sound system can't quite cope with the output; despite being cranked right up to the max the vocals are completely inaudible from every standing point in the room, resulting in what sounded like an instrumental set. As true professionals the band carries on regardless and pummel their way through a relentless and fantastically ferocious set.
Thankfully Turnstile Records' showcase "We Throw Parties, You Throw Knives" soothes and provides respite to our ringing ears. Catching the last track of Perfume Genius' set gives a much needed moment of calm as his simple stripped back set of vocals and keyboard melodies rise up into the rafters of St David's Historical Sanctuary church. It's followed by a beautifully sweet set from Girls' man Christopher Owens whose country tinged pop melodies accompanied by gospel girl duo harmony backing, and swirling organ sounds are the perfect form of escape and serenity from the building chaos on Sixth Street. It's somewhat of a reunion show for Owens who regularly comments how happy he is to be playing alongside the selection of musicians on stage, many of whom were band mates from previous projects including Girls and Holy Shit.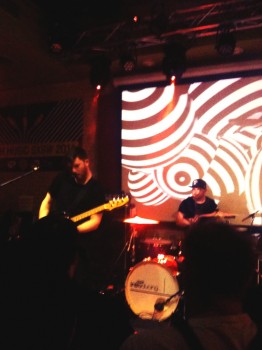 After a failed attempt at re-entering the Carpark Records showcase to see girl band TEEN, Silent Radio heads over to Latitude where the British Embassy are holding their UK band showcases. Tonight it's the turn of BBC 6music DJ Steve Lamacq who is broadcasting live from the event with a host of British acts on their BBC Introducing bill. We arrive as Longfellow are midway through their set. It's epic pop in the vein of Bastille or Kodaline through singer Owen Lloyd's impassioned vocals and the band's soaring choruses. As the clock strikes midnight the entire venue goes quiet for one minute's silence in respect for those who lost their lives in the terrible car accident which happened on Red River the previous night. It's a poignant moment and seems like the perfect tribute as Brighton duo Royal Blood follow the moment by taking the stage and making as much noise as humanly possible. More than the sum of their parts, it's an onslaught of sound – it's brutal, fierce and the pair give it their all culminating in an impressively manic finale. The last band of the night, Woman's Hour bring proceedings to a calmer close; singer Fiona Jane is seductive looking like a pure, but gothic Statue of Liberty, dressed in black with abstract halo headband whilst channelling Bjork through the subtlety and power of her vocal range. Some would say ice queen, but there's far more warmth and it's boosted by dazzling production heavy electronics. Their cover of Springsteen's 'Dancing In The Dark' is ethereal and brings a perfect close to another hectic day.
More pics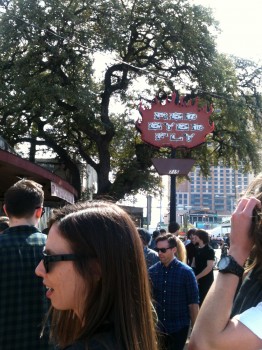 SXSW 2014 – Day Three

The Welsh flag is flying high at this morning's event in the parking lot of Waterloo Records for the third instalment of the record store's SXSW day parties. Los Campesinos! have taken their place in front of the fully plugged-in stage to support good friend Cate Le Bon who is about to play the last of her SXSW 2014 shows. Gracing the stage wearing dark shades, tar black outfit and a cool smile, she storms her way through a full set of melodic pop, gently trying to coax the sun out from behind the clouds. Between banter about clothes swapping and the impending fatherhood of one of her fellow band members, each track is like a heavier, rocked up version of French Yé-yé and sets things up perfectly ahead of taut, austere rock outfit Protomartyr. Taking centre stage the Detroit four-piece, on the surface don't look like much. With furrowed brow squinting at the outside brightness and standing with one hand in his pocket (which remains there for the entire duration of the performance) singer Joe Casey is channelling the look of a dad who'd grumble and ask for music to be turned down rather than up. But from the moment the band play, theirs is a sound that packs more than a punch. With the intensely dark deadpan vocals of Ian Curtis or Mark E. Smith moving through poppier shouty Cribs-like punk moments with colossal instrumental freak outs, this is a band that will impress, surprise, and intrigue all at the same time. The best thing about SXSW is that you never know what's around the corner, and here, on the corner of Sixth Street and North Lamar, one of the best acts Silent Radio has witnessed all week is nonchalantly standing.

At the same time Friday's British Embassy day party is well underway. After our brief pit-stop at burger den Huts' hamburgers, recent Sub Pop signings Thumpers are going down a treat and filling the air with their infectious indie-pop rhythms and boy-girl call and response vocals. The London band is inventive in the way they use their voices as additional instruments matching the shining guitar sounds and pounding melodies ensuring the music doesn't fall too close to twee. "We love sweater beats!" yells one enthusiastic US fan, complementing the keyboardist on her Aztec print jumper. "Stop putting her off!" jokes drummer John Hamson Jr who alongside vocalist Marcus Pepperell founded the band. Big songs-of-praise pop seems to be the theme of the afternoon; Glasgow trio Prides follow Thumpers with an impressive set up, two thirds playing keyboards, often in perfect unison with the addition of drums and guitar resulting in an anthemic call to arms of shimmering highland pop magic.

In fact, Scotland has well and truly made their mark today. The Creative Scotland & AIM Presents Scotland evening showcase is packed wall-to-wall due to its killer line up. Slumberland and Fortuna Pop Records' Withered Hand aka songwriter Dan Willson, alongside members of his backing band, performs a sturdy set of large country-tinged indie pop numbers. Boasting deft lyricism and well adjusted stage banter, at its best it's reminiscent of Frank Turner or at its worst Fran Healy. Either way, it's "quaint" according to one girl in the crowd which results in a comment from an amused Willson about one of his band having hair like a thatched roof. You could never accuse Meursault of being quaint. More comfortable in screwing with dynamics, the Edinburgh trio have garnered quite a following over their first three records for their epic post-rock melodic textures and tonight is no exception, whipping the venue up into a suitable frenzy ahead of the hugely hyped Casual Sex. Part Tarrantino soundtrack, part pumped up sleazy Franz punk rock, a Casual Sex show is a dramatic, writhing orgy with singer and showman Sam Smith at the helm as ringleader for proceedings. "I like to keep Austin weird," he says quoting the city's motto with a strong Sussex tone, at the same time as pulling out a lipstick and smearing it over his lips transforming himself into a creepy cross between Nicky Wire and The Joker. It's taught, clever and memorable, and Glasgow girl duo Honeyblood has a tough job on their hands following. Although on record the pair pack a punch, tonight amongst the ambush of the evening's intensely loud boy guitars, singer Stina Tweeddale's girlish vocals struggle to quite match what's gone before. With equal measures of raw emotion, C86 lo-fidelity and elegance, it's a fine effort that's unfortunately overshadowed by what's gone before, but is well received due to the swelling crowd for the layered and abrasive, heavily accented anthems of We Were Promised Jetpacks.

It's gone 1am by the time alt hip-hop collective Young Fathers take the stage. The venue has filtered out slightly, mostly likely due to aching feet, yet those last ones standing are presented with a thoroughly impressive and inventive closing set. Looking and sounding like no one else and signed to the impeccable hip-hop label Anticon, Young Fathers' closest comparison would be a more aggressive TV on the Radio but even that would do this four-piece an injustice. Hailing from Scotland but with roots in Nigeria and Liberia, they shrewdly combine tribal African rhythms, enormous pumped up drum beats and dexterous vocals. Whether singing together or taking it in turns to deliver their gospel, tonight's set is a dramatic performance of explosive energy; at times subtle choreography makes an appearance and even when one of the microphones packs in mid song, the chemistry between each band member means a quick and almost unnoticeable recovery is made ensuring Friday as the day the British Isles truly makes its mark on Austin.

More pics from Day Three

SXSW 2014 DAY 4 – The Grand Finale

It's the final day of SXSW and whilst many seem to be flagging, Boston's Quilt are anything but. As a queue begins to form around venue Red7, the four-piece is performing for tastemaker blog Brooklyn Vegan's day party with songs from their self-titled Mexican Summer debut album and second record Held In Splendor. Singer Anna Fox Rochinski seems sweet alongside her male band mates; her light and airy vocals weaving alongside an intricate tapestry of classical Indian sitar sounds created by skilled guitar playing and 60s vocal harmonies. Altogether it places the band closer to the coast of California than their easterly dwellings with their big rolling jams swelling and echoing like ocean waves. For their last song the crowd are asked if the band should finish with a "fastor slow" one, and answered with a resounding "fast!" the band bring their set to a close with a complex, beautiful and upbeat start to the day.

Outside, Mary Timony of Wild Flag and Helium is tuning up alongside her fellow Ex Hex members; drummer Laura Harris and bassist Betsy Wright, a power rock trio getting ready to rip up the party's outdoor stage before it's even got going. With ruby red lips and fingernails matching their crimson attire, it's electrically charged music running through Riot Grrrl veins flowing from brash blues to fiery punk rock with vocals recalling Dance Hall Crashers' Elyse Rogers. It's pumped up and cutthroat with Wright and Timony colliding into each other and playing back to back, brilliantly and equally sharing the role of frontwoman. Should the girls ever be in need of a fourth member, they could do far worse than enlist The Crookes singer George Waite, if his drag-like makeover in the accompanying video for the band's latest single 'Play Dumb' is anything to go by. As it is, over at Latitude for the last of the British Music Embassy day parties, the Sheffield four-piece are storming their way through eight tracks of bold, hooky-as-hell guitar anthems bolstered by sharp, tormented intelligence and irrefutable male charm with intense velocity. Apart from a Union flag and stars'n'stripes bunting hung over the microphone stand, it's an unusually straightforward set for the band sans Waite's regular stage banter placing clear focus on the brand new tracks from forthcoming album Soapbox. It's a strong, passionate set indicating The Crookes as a band beyond ready to make a serious mark on US territory.

A few Margaritias later, Silent Radio is standing amongst the crowd at Maggie Mae's, ready to tuck into The Aussie Bar-B-Q showcase. SX veterans DZ Deathrays are brandishing their chainsaw guitar and drum pairing whilst freewheeling through the razor sharp riptide of a franticly raucous penultimate SXSW set. Although it would appear to be an awkward performance for the Brisbane duo who are raised aloft a high stage in front of a nodding crowd which has formed into a half moon-like crescent ensuring the band are playing to a vacuum of space, the pair never falter, hardly noticing the lack of enthusiasm for their thrashy boisterous ear-splitting grunge of forthcoming album Black Rat. Enlisting an extra guitarist by way of Cesira Aitken from The Jungle Giants extra weight is brought to the set, turning up the volume and raising the bar high for those bands to follow. Upstairs on the roof terrace as the sun begins to set, Sydney trio of keys, drums, and guitar RÜFÜS DU SOL are testing out their new name (the band are known as simply RÜFÜS outside the US), not to mention the strength of the floor by turning the growing crowd into one giant heaving groove through skitting Balearic party beats and the warm vocal lines of their organic dance music.

Unfortunately by the time UK bands Temples and Fat White Family grace Latitude with their much anticipated presence, the queue outside has extended as far as the next street. After a short wait it's time to sack off the line and take an unexpected trip around the corner to see what Soho Bar has to offer. Playing to the upstairs room's burgeoning crowd, Californian five-piece Kiev  should be credited for their eclecticism with their unique free jazz-post-rock fusion of punked-up and syncopated beats seamlessly combined with heady sax melodies, cacophonic percussion and Reichian melodic lines. Singer Robert Brinkerhoff's light near-falsetto vocal range soars neatly alongside each song's clockwork rhythms veering from ear-aligning to ear-pleasing in one simple beat. Comparably Austin's own Residual Kid may be a little more straight up but they're the coolest kids in town. Despite brothers Ben and Max Redman (drums and bass), and singer/guitarist Deven Ivy all below age 16, this is a barely legal band who've already spent time recording with Dinosaur Jr frontman J. Mascis, graduating from snotty school of rock with an impeccable skill set well beyond their years. Channelling the raw Americana of Cloud Nothings whilst drawing on Cobain-era grunge and launching t-shirt bombs into the crowd, the trio are energetic ball of explosive sound unleashed with enough force to dislodge the dust from our boots. By 1am Sixth Street has fallen into hideous disarray; like Back To The Future's alternate 1985, the street is almost unrecognisable and seemingly lawless strewn with litter, half-naked bodies and mumbling strangers. Before catching the Night Owl bus back to base, there's just enough time to run the gauntlet once more for a slice of questionable pizza and to venture back to Latitude to witness Drenge's closing SXSW performance through the venue's holes in the wall from the street. It's been a whirlwind of a week, but what a ride.