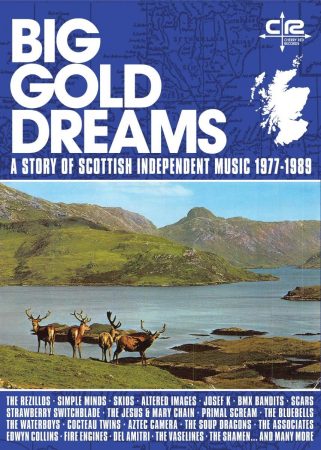 How to fit five albums worth of music into one moderately sized review?  Not an easy task, as there's one hundred and fifteen songs on this box set compilation, but it's an aural feast for anyone with even the slightest interest in punk and indie! Although there's been other compilations pulling together the origins of the Scottish punk, new wave, and indie scenes, none have seemingly done it as thoroughly as this one. Disc 1 has the punk and new wave era covered and there's some real gems on here, like hugely melodic TV21 with 'Playing With Fire', and the Gary Numan-esque 'Stay With Me Tonight' by Alex Fergusson who went on to form 80s indie bands Alternative TV and Psychic TV to the weirdly eccentric 'Robot Love' by dark electro types The Valves.
Disc 2 has a few more recognisable names with Altered Images showing their darker and feisty side with 'Dead Pop Stars', plus there's those now hailed as legends of the Scots post punk scene such as Josef K with their effervescent melodic guitar tune 'Sorry For Laughing'. Restricted Codes' tune 'Love To Meet You' shimmers with their sharp and frenetic post punk melodies, and Fire Engines' 'Big Gold Dream' has post punk rhythms mingling with Hammond organs and guitar jangles, then there's The Associates and Billy McKenzie, all showing why their status as the trailblazers of Scots indie – these are the crop of bands that went on to influence generations of musicians, from Primal Scream to Franz Ferdinand.
There's a real mix of rarities scattered throughout this compilation as Disc 3 finds indie legends Cocteau Twins with 'Feathers Oar Blades' from an early EP of theirs, with a more energetic and aggressive sound than their famed for, but still with those gorgeous Liz Fraser ethereal vocals. Then there's the full on feedback drenched beauty of 'Upside Down' by one of my favourite Scots bands of all time The Jesus And Mary Chain, and in contrast another band never far from my ears, The Pastels with the sedate stomp of 'Baby Honey'.
Disc 4 ventures into mid to late 80s indie territory with very early Primal Scream from 1985 with their Creation Records single 'All Fall Down' – a million miles away from the giant indie, rock and electro sounds they became famous for, and more in line with a dreamy gentle guitar haze of a tune. Then there's the lesser known bands which are just as relevant in the Scots independent story, such as Close Lobsters (part of the C86 indie scene and still going strong today) as well as more polished guitar pop with Goodbye Mr McKenzie featuring Shirley Manson later of Garbage fame, and one of Scotland's finest ever songwriters, Edwyn Collins, with 'Don't Shilly Shally'.
Disc 5 moves us into electro-dance and 90s indie terrain, and has the brilliant electro trippiness of 'Happy Days' by The Shamen in their early form, when more of an indie sounding band, before the huge dance anthems of 'Move Any Mountain' and 'Ebeneezer Goode' propelled them into the mainstream. There's also the unabashed indie guitar heroics of The Vaselines with 'Teenage Superstars' sounding like The Velvet Underground meets Jesus and Mary Chain and the underground arty melodic beauty of The Orchids with 'Tiny Words'
Not only does this compilation serve to remind you what legendary bands came out of the Scots independent music scene but also opens the door to those who may have long been forgotten, as well as chucking in some undiscovered and lesser known tunes by both the big hitters and the cult indie bands on that era – a Scots indie history lesson well worth hearing.
Big Gold Dreams – A Story Of Scottish Independent Music 1977-1989: Out Now (Cherry Red Records)