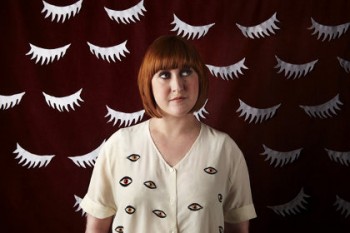 The unique Liz Green received a plethora of praise for her wonderful debut album 'O, Devotion'! upon its release in November 2011.
She played a multitude of radio sessions that included a varied array from 6 Music's Marc Riley and Radcliffe & Maconie (the station also gave her the 'Album of the Day' accolade) and Radio 1's Gilles Peterson to Radio 4's Loose Ends & XFM's John Kennedy and also performed on BBC2's The Review Show.
To celebrate all this ecstatic news, Liz will release 'Bad Medicine' with a glorious gem of an exclusive B-side 'Rybka' on 12 March 2012 (PIAS Recordings) and head out on a full UK tour from 22 March that stops at London's Bush Hall on 3 April.
As for 'Bad Medicine', Liz explains its genesis with her usual illuminating heartfelt humour. "This is probably my favourite song. It's a different bag of badgers altogether from the first version of it. Me and Peri spent a long time trying to nail that trumpet solo. I eventually ended up playing it to him on a kazoo! Because I can't afford to take a full band everywhere I go, I've built up a bit of a reputation for being a great mouth trumpet player.
There is a simple story. The sad story of a man who is neglected by his fellow men. Punished by them for his difference. When I mention him walking like a Bible prophet I think of a man I used to see walking round Manchester, striding, head high, beatific smile. I haven't seen him around for a while. I hope he's still walking that way. The opening lines are how I felt when I first heard Son House. I think I'd not heard the rawness of emotion come through a recording so easily as it did with his recordings. That's the aim isn't it. To capture a little bit of soul."
Liz Green live dates on sale now –
Thurs 22 March Birmingham Glee Club £8
Fri 23 March Exeter Cavern £8
Sat 24 March Bristol Louisiana £8
Mon 26 March Glasgow Captains Rest £8
Tues 27 March York Duchess £6.50
Wed 28 March Newcastle Cluny 2 £7
Thu 29 March Sheffield Riverside FREE
Fri 30 March Leeds Brudenell £8
Sun 1 April Norwich Arts Centre £8
Mon 2 April Brighton The Hope £6
Tue 3 April London Bush Hall £12.50
Wed 4 April Cambridge Portland Arms £7
Thu 5 April Manchester Deaf Institute £7