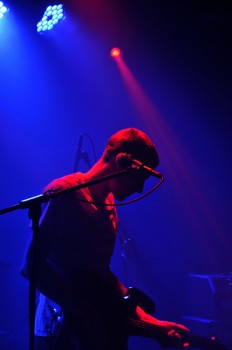 – SOUND CONTROL, MANCHESTER –
It's a shame to see a long-standing music store close in Manchester, but what better to replace it with than a music venue? And what's more, it has kept the original name. Sound Control is perfectly placed in a lively part of South Manchester between the trendy Northern Quarter and the more expensive designer bars of Deansgate.
The ground floor has pool tables, the basement is a club space and upstairs there's a wooden floored hall under a sloped roof for live gigs. Money has been spent wisely, the venue has character and is well designed but it would benefit from a few more punters tonight.
A handful of people tentatively creep towards the front as Gallops begin their support set. Behind the barriers on a low stage are a drummer, two guitarists and a central laptop operator. He faces the crowd but is seldom distracted from looking at his screen. The sound is reminiscent of Battles, the drummer pulls off some incredible beats with tricky chops and changes, keeping the sound interesting, minus the presence of a vocalist.
Cyril Snear start just after 11, a larger crowed has gathered for the headliners and they look on in anticipation. They play a fluctuating repertoire of tunes from their self-released début album, 'Fluent In Seven Types Of Monotone' as well as material that can be expected on a soon to be recorded follow-up.
They are difficult to pigeonhole, and I almost regret having the task of trying to categorise them at all. They are brilliant and unique. Influences include The Mars Volta and Oceansize, but as a recent session on BBC Manchester radio showed, they have a stripped down acoustic side to them as well. "Aggressively chilled" is a description that they seem happy with.
Mike's voice is soft and cloudy under the rapid, heavy drum beats and deep, often pitch bent bass. During the quieter moments he has a strained whisper with often politically orientated lyrics for songs that have capitalist and conflict based titles. Throughout the set, the three at the front of stage wander around, adjust tuning mid song, trigger effects pedals and watch each other for the changes. Nick, on drums and in white glasses, effortlessly pounds out an impressive array of intricate beats that would take any replacement months to get his head around.
While at their heaviest they shudder to life, the walls feel as though they're going to shake the roof off. Transition from quiet to loud brings a rush of euphoria, almost reaching thrash metal levels of heavy, but in small doses so as not to overpower the composition. Radiohead with more oomph. Although the songs are rollercoaster rides they remain balanced and rounded as a whole.
The lighting and sound are both very impressive for a venue of this size. Lasers and coloured lights behind the band create stunning silhouettes and shadows for the four photographers to capture. Strobe light enhances the energy.
I have seen Cyril Snear live a few times now and I strongly believe they deserve a much larger audience. It's great to see them headline and I wished they had obeyed the small but passionately loud audiences cry for an encore.