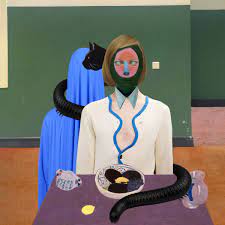 A psychedelic twist on electronic music is what Gnoomes have been carefully crafting over their four albums, now having fled their home country of Russia, and relocated elsewhere, their latest album is awash with hypnotic electronica. Opening track 'Ural Sun' sounds like a dystopian dream, with deep rumbling sounds which build into a mountainous soundscape whereas the title track 'Ax Ox' finds them layering synths over a dreamy swirl of guitars, and a fierce motorik beat which powers the whole tune along, before an eruption of pounding drums and heavy duty guitars kick in, Gnoomes never lose sight of a melodic line though, which holds the whole thing together. 'Loops' has more hypnotic melodies coalescing into a fast paced electro slab of pure brilliance, like New Order raving with Stereolab. 'Eternal Trans Siberian' is a Kraftwerk-esque tune with psychedelic woozy synth and guitar lines plus huge melodic riffs and the electro thrills continue with 'The Bridge' having a pulsating beat with ambient synth melodies, whereas 'Salted Caramel' sounds like the kind of glitchy heavy duty dose of electro favoured by Battles with a repetitive vocal loop and intense blasts of synth power. 
Gnoomes have had to overcome more obstacles than most artists during their career and particularly during the making of this fourth album, yet it's a testament to their creativity and work ethic that 'Ax Ox' is possibly their finest yet as they continue to plough their own musical path.
That said, there's a definite hint of Stereolab, Moon Duo, Kraftwerk and Neu! emanating from the repetitive grooves of Ax Ox, yet Gnoomes also manage to inject the album with their own take on electro psych, and the results are an intriguing and joyous array of tunes on what is possibly the best electro psych album you'll hear all year.
Gnoomes: Ax Ox – Out 3rd March 2023 (Rocket Recordings)