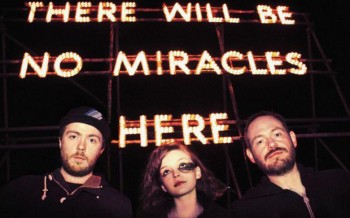 – THE RUBY LOUNGE, MANCHESTER –
So, It's a bitterly cold Monday night and I'm keeping out of the cold in the lush surroundings of The Ruby Lounge, hoping to be uplifted and warmed by Glasgow based outfit Chvrches.
Having only formed in 2011, Chvrches have caused quite a stir with their retro electro tones, with only three recorded songs in the public domain tonight's show is a sell out and the crowd seem to be buzzing with the prospect of hearing a full set of future pop hits.
Tonight's support comes from fellow Glaswegians Conquering Animal Sound. With their debut album 'Kammerspiel' receiving glowing reviews back when it was released in 2011, including a nomination for Scottish album of the year, the duo are about to release their second LP 'On Floating Bodies' through much loved Scottish label Chemikal Underground. Armed with percussion, synths, samplers and laptops, Anneke and James transport us into the more trippy and experimental side of electronica with fidgety beats, lush synth driven soundscapes and bewildering vocal. It takes both the crowd and the band to get into the swing of things but once they get into it, I feel almost hypnotised by their loop driven, psychedelic sounds, with their latest single 'The Future Does Not Require' acting as the set's highlight in all its glitch-pop glory. A great start to the evening, fans of Four Tet, The Knife and Bjork's more experimental electro moments will adore these two.
Not long after Conquering Animal Sound pack away all their gizmos and gadgets, the stage is set for Chvrches as the lights are dimmed, the main live room of the Ruby Lounge is packed out nicely and the crowd are all warmed up and the three piece enter the stage to spaced out synths and a distorted recording of what sounds like a pitch shifted speech before we hear the big, booming beat of 'Lies'. With this being the first song anyone heard from Chvrches, it seems like a fitting start to the set as the crowd nod in unison to the sharp string hits of the chorus and front woman Lauren's passionate yet sweet vocals.
The band's inter song banter tonight is on a top form, as Lauren jokes about being a big-time front woman (although its only a matter of time) and how we can't get our money back as she forgot to play tambourine on one song. It's funny because in one of the few interviews I've seen of the band Lauren talks about not being a very crowd participating live act, to which keyboardist, programmer and guitarist Ian replies 'I think you have a charm and wit, and that's very endearing'. And after witnessing her charm throughout tonight's performance, that statement seems spot on, she's also possibly one of the cutest front women I've ever seen. Prepare for a flurry of indie boys to start putting her picture as their phone background (yes, I've already done it).
The band play a big majority of songs that will make up their debut album due out later this year which sounds like it's going to be a corker as their flit between the shimmering synth pop chorus of 'We Sink' which sounds massive, to the darker, driving build of 'Science And Vision' which could easily soundtrack a rave scene in some 80's indie film.  Of course it's the band's two singles that get the most love in the room tonight, and sound twice as huge as they did when we first heard them. New single 'Recover' is a mid-tempo dreamy electro classic in the making, a tune that Goldfrapp would be envious of and set closer 'The Mother We Share' has a chorus of sky scrapping proportions that is sure to soundtrack the road trip to which ever festival you make it to this summer.
Tonight was all about delivery, a new band living up to their hype and delivering a dazzlingly set of future electronic pop classics. And if they keep on delivering to this calibre, Chvrches will be packing out rooms triple the size of The Ruby Lounge this time next year!