To begin I'd like to resort to basic national stereotypes. Australians are not renowned for their subtlety. They produce bands like AC/DC and Men at Work. Their national monument is a giant rock. Their drink of choice is the delicately brewed XXXX lager, and their film stars spend their time displaying their larger-than-yours knives. So it is some surprise to see the brother/sister folk double act emerge from the brash and abrasive Sydney streets. This un-Australian approach may have come from the pair's willingness to travel. The album, the duos sophomore release, from which this single emanates, was recorded in Cornwall, London, Australia, Brooklyn and Queens, and the international influence is plain to see.
The single is a wonderfully blended composition that gently builds whilst never imposing itself on the listener. The drums and heavy piano chords offer the song a hint of menace which is heightened by the childlike overly innocent vocals, but these are gradually overtaken by the luxurious strings and brass sections. It all combines to overpower the listener into taking notice of a tale of reflection on old love affairs. Although the lyrics are used more as an accompanying instrument than as a method of storytelling, the frequently repeated 'and the boys go on and on and on and on' allows the song a dreamy quality.
Unfortunately, despite the song's obvious positives, there is a frequent feeling of deja-vu. It has all been done before notably by a woman they supported on tour, Martha Wainwright. The song could quite easily have been a rejected cut from 'I know you're married but I've got feelings too' – or if not from her then from the myriad of female singers pushing the same message in the same style. It is a song of musical accomplishment but it is hardly unique.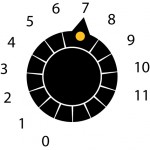 Release Date 01/03/2010 (Flock Music)