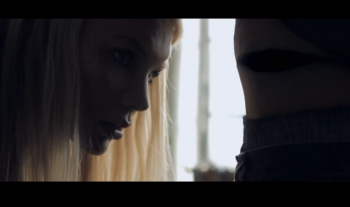 With their debut album "Lights Out", released last year on Mute Records, Big Deal staked their claim as one of the most thrilling and original new acts around. Comprising an American boy (Kacey Underwood) and British girl (Alice Costelloe), Big Deal can arguably be said to write rock music, but certainly not as we know it. Armed only with two guitars and languid vocals, stripped down and rubbed close to the bone, these were love songs with their nerve endings on display, all raw emotion and dueling contrasts revealing a concealed world of hurt, angst, loss and longing.
Their new single, "Talk", which was released in demo form on Moshi Moshi last year, encapsulates this ethos perfectly, with gently strummed guitars giving way slowly to an uneasy tale of unresolved love and lust, culminating in the simple yet affecting refrain of "all I wanna do is talk/ but seeing you f**ks me up". Reduced to the barest essentials, it's a three minute track that still packs an emotional wallop.
The video was directed by Yoonha Park (Washed Out, Beach House, A Place To Bury Strangers).