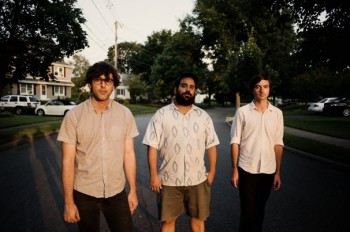 – THE DEAF INSTITUTE, MANCHESTER –
Tonight's sell-out Real Estate gig at the Deaf Institute sees New Jersey, indie-pop darlings, make a welcome return to Manchester following their last No Wave gig at Islington Mill back in October. This evening, is one of just five UK appearances of their nine-date European tour.
It's Friday night, the weekend's here! Yet, I feel like someone's dragged me through a shitty field by my nipples, backwards. I'm teetering on the edge of full-blown ill and feeling well sorry for myself. An hour and a half with my new chilled faves Real Estate is bound to sort me out.
Real Estate are a bunch of best mates who've been playing together for over 10 years. The band's Garden State-inspired, sunny, suburbia-surf pop (new genre alert), has been pleasing my ears since the autumn '11 release of their second album Days. This first release from their new Domino Records signing is a refined honing of their laid-back, melodic-indie style, which saw them gain critical acclaim in 2009 with their eponymously named, debut album.
Manchester gives a massive warm welcome as the 5-piece takes to the tiny stage. Enter: singer/ guitarist Martin Courtney, guitarist Matthew Mondanile, bassist Alex Bleeker, drummer Jackson Pollis and Jonah Maurer on the keys and guitar.
As the band play an epic selection of more than 15 songs from both albums, I'm left scratching my head. Musically, you can hear where they're heading and some tracks make it, including the obvious stand-out, sing-a-long favourites, ;'It's Real' and 'Easy'. The new track 'In My Car', sees the band completely gel as one and sound outstandingly gorgeous with it too. However, the gig ebbs on monotonous, mumbled and lacking. It's frustrating, because I know they can sound better.
I wonder, is there a secret a knack for replicating or bettering a record in real life? I've seen lots crack it, few nail it. But sadly tonight, Real Estate don't deliver. Their brand of hazy, dreamy rock music usually makes me feel like taking a road trip, running away, and frolicking on a sunny meadow, without a care in the world. I wouldn't have minded a bit of that escapism tonight.
Perhaps the live experience isn't the be all and end all? Yet, I think how proper chuffed I get when live gigs surpass my private headphone moments. It's a rare joy, when you fall in love with a record and then listen to it brought to life. You stand there beaming (or crying) thinking,
"OMG, this is the most magical thing ever".
I'm leaning on the bar, swishing my £5 glass of wine around, and trying to analysis the ins and outs of this. I come up with conflicting thoughts ranging from, 'must have bad day', 'venue woes', 'wrong tech', 'wonky set-up', etc.
I leave disappointed.
Let's not speak of this live performance thing again. Instead whack on the CD, rev the engine and let Real Estate be your Summer '12 soundtrack.
http://realestatetheband.com – for all show dates, album downloads and the cute video for 'It's Real' (involves dogs).