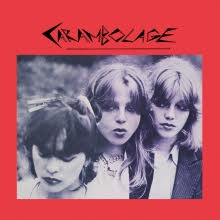 Let's face it, the thrill of discovering new music, new bands you've never heard of before keeps us music fans entertained and constantly striving for the next music fix. Whether it's digging through the vinyl and CD shelves in your local record shop, hearing something new on the radio, or in this case getting a press release through about an intriguing band you know absolutely nothing about. Diving into the world of Carambolage has been an absolute joy. Yes they sing in German, and no, I can't understand most of it, but the music, attitude and sheer inventiveness of this punk / new wave band band comprising Britta Neander (drums), Elfie-Esther Steitz (guitar) and Angie Olbrich (bass and organ), shines through all three of these re-released albums. 
Originally released in the early 1980's Carambolage's three albums, made ripples in the German underground music scene. The band lived in a commune, as did a lot of punk bands at the time, with Carambolage building their own rehearsal space in an old grain silo, fitting out with old cardboard and carpets, then setting to work to create some of the most extraordinary music of the time. 
Their debut self titled album has fast and frenetic punk guitars as on opener 'Rampenlicht' with Elfie's hyped up vocals adding to the sense of unease and urgency, whereas tracks like 'Johnny' creep along a bit like The Cure's 'Lovecats', with an undercurrent of mischievous menace. Their second album 'Eilzustellung-Exprès' saw the band beef up their sound with a fourth member, Janett Lemmen,  joining on guitar. Whereas the first album revelled in an raw post punk attitude, the second album has that in abundance but coupled with clever melodic lines, and managed to appeal to both the punks and the pop crowd alike with 'Vollgeturnt' and 'Eingeschneit' powering along. Songs like 'Was Mir Widerfuhr' have a cool creepy organ bubbling under the melodies whereas 'Psychoeintopf' is pure German new wave. Their third and final release 'Bon Voyage' which saw the light of day in 1984, makes a grab for the pop world with both hands, yet still within the realms of outsider pop experimentation, and expanded their sonic palette even further. 'Auf Der Suche' sounds like Gang Of Four all spiky sharp guitars, whereas 'Laisse Moi Fare' is a glorious dose of French punk pop with distorted choppy guitars and saxophones  –  very 1984 but still sounding like a warped pop epic. Songs such as 'La Vie D'Amour' are more cabaret-esque tunes, and others on here veer from more choppy punk pop riffs to Europop in all its forms.  Carambolage (meaning collision) lived up to their name, as opinions regarding the direction of the group's sound were divided and the band subsequently split soon after the release of their third album.
For their sheer innovation, willpower, and attitude, Carambolage remain a force to be reckoned with even today, and with these reissues,  post punk's long forgotten queens are finally getting the recognition they deserve.
Carambolage: Carambolage, Eilzustellung-Exprès and Bon Voyage: Out Now (Tapete Records)