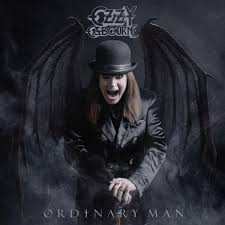 So, it's fifty years since Black Sabbaths self-titled was release. Ozzy also had a serious life affirming 2019. So, what's the best way to approach this? Release a new solo album that feels like a swansong.
Well that sounded depressing and an excuse. But it isn't! Not even close. 'Ordinary Man' is Ozzys best album of this century. You cannot go back, you cannot repeat classic albums built legacy that won't be topped or argued with. With this its entirely different feel. We'll start with maybe the most obvious that may at least, raise an eyebrow of the heavy metal kind. This album features Post Malone in the song 'It's a raid' and it's a really fun song. The reason why this comes about, is how the music is written. Chad Smith and Duff McKagan wrote the album in three weeks with Andrew Watt playing guitar and producing the disc at same time. So, it's a first album that isn't led by the guitarist of a famous name. Giving it a real sense of urgency, and it's produced a great album to listen too! Because it's just an easy listen, it's not complicated, it's just comfortably fluid. The lyrics focus quite heavily on a last breath vibe. Which is understandable, not to focus solely on the reality of life, age, health and so on (I'm sure people have a rough idea of Ozzys history, its impressive in many way), but you must be realistic.
With songs 'All My Life', 'Holy For Tonight', 'Today Is The End' and 'Goodbye', you get the idea. As much as I can delve into lyrics for examples, it's easier to say this is written by John Osbourne. Feeling more human, focusing on his lifetime as Ozzy and everything that has come with it. No sense of regret, just wanting it to have been worth it, hope it made sense, it had value and it was enjoyed as much by the fans, as it was for him. But it still has some classic Ozzy, have no fear! Album opener 'Straight To Hell' to standard good ol'modern Ozzy solo rock and crazy. 'Eat Me' is the fine example of interests that's kept song written a healthy approach, about a German man printing an add for someone to offer themselves to be murdered and eaten, lovely. Along the same lines of interest to Ozzy, 'Scary Little Green Men' is about….well, yeah that, aliens. But the song is far too generic in music, it's far too flat and for me, easily skippable. Best song, title track, 'Ordinary Man'. It sums up this album. Its where Ozzy Osbourne has been, done, come and where he is now. A fifty-year song in the making, co starring Sir Elton John, and it's frankly the best song here, it was released over a month ago, so you need to hear that, it's a vital song for 2020.
Was this the final Ozzy Osbourne set of recordings? I think so. Should it be his last? Definitely. Why does that sound depressive again? Because though things come to an end, this album is fantastic finale, from a frontman who will never be forgotten, much like many of his peers who have left unfortunately. Ozzy will finish making sure the fans know "it was all for you"
Ozzy Osbourne: Ordinary Man – Out Now (Epic Records)