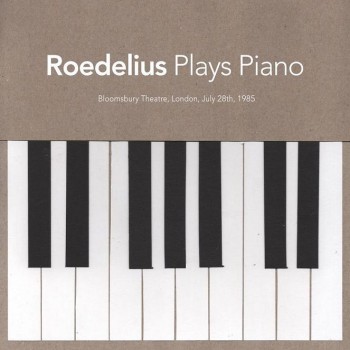 Roedelius Plays Piano is a live concert recording that has lurked in the vault since the eighties and is only now seeing the light of day. Hans-Joachim Roedelius himself explains thusly: "I always knew that this concert would have to be made available some day. I was just waiting for the right moment, for the right partners who would do it justice." Though no masterpiece, it's a solid effort that perhaps deserved to be released sooner, but then again the knowledge that this record has been shackled unheard for a quarter-century lends a lustrous novelty to the music and affords a sense of privilege to the listener.
These pieces were all recorded on 28th July, 1985 at the Bloomsbury Theatre in London in front of such baronial rockists as Brian Eno and The Edge. They are solo piano pieces, with no vocals and nary a whisper from the hushed crowd. Instead, Roedelius plays alone at the venue's Steinway grand pianoforte, an instrument whose singular quality apparently gave him the platform to tinkle through the 21 tracks featured here.
Musically, it's all rather pleasant if slightly mundane fare. There's an authentic eighties hiss beneath the gentle arpeggios and chords, which plod sedately through melodies which seem fairly familiar in places and rarely move in unexpected directions.
As pianist, Roedelius is competent and with an ear for accessible melody, but doesn't seem to quite have the versatility or virtuosity to fully engage the listener's attention over a full album. If you're a fan of solo classical piano and have soared into the aural stratosphere on occasion with Ravel, Rachmaninov, Chopin or Debussy, you may be left somewhat more earthbound with this album. Having said that, these gentlemen (and/or those who perform their works) were some of the greatest pianists to have graced the planet, and it's not Roedelius' intention to match them, nor is it particularly fair to make such comparisons given Roedelius' day job as an experimental electronic musician.
However, such is the frame of reference for solo piano, and these pieces do, on occasion, resemble some of the gentler, slower and more accessible parts of the classical piano repertoire. Alternatively, some tracks resemble promising demos that would truly come alive as full songs, laden with vocals and other instrumentation. Further pieces resemble atmospheric soundtrack works, whereas others, in fairness, stand fully formed as compositions quite nicely. In all, a flawed but substantial effort brave enough to lift itself above the parapet of glossy production, lending itself well to quiet evenings at the bureau with a glass of warmed claret.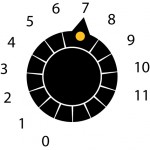 Release Date 06/02/2012 (Bureau B)