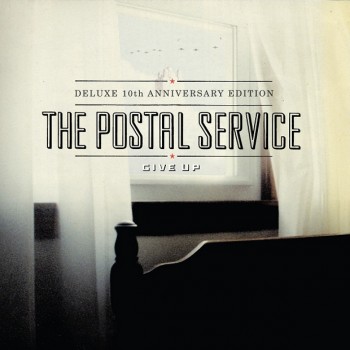 Having just unveiled the never-before-heard song 'A Tattered Line of String', The Postal Service and Sub Pop Records have made 'Give Up (Deluxe 10th Anniversary Edition)' available for pre-order. Configurations include a very special limited 3-LP edition on red, clear and white vinyl available through subpop.com and postalservicemusic.net. All pre-orders will immediately receive a download of 'A Tattered Line of String'.
'Give Up (Deluxe 10th Anniversary Edition)' will be released 8th April on Sub Pop. The reissue includes the remastered original 10-track album along with 15 bonus tracks, including the brand new 'Turn Around' and 'A Tattered Line of String', a previously unreleased live recording, and every other official recording the band has ever released, as well as cover versions of Postal Service classics by The Shins and Iron & Wine.
Ben Gibbard and Jimmy Tamborello AKA The Postal Service recently announced the band's first headline dates in a decade, including an already sold out return to New York 14th June at Brooklyn's Barclays Center. The Postal Service's UK headline dates 18th May at Manchester's Academy 2 and 20th May at London's Brixton Academy sold out immediately, necessitating the addition of a second London date which sold out in less than 24 hours. The band's two California shows, at the Mondavi Center in Davis on 10th April and the Madonna Expo Center in San Luis Obispo on 12th April, also sold out within minutes.
The Postal Service 10th anniversary tour will reunite Gibbard and Tamborello with Jenny Lewis (Jenny & Johnny, Rilo Kiley), who appeared on the original album and played with the band on its 2003 dates. Lewis also sings on the two new songs on 'Give Up (Deluxe 10th Anniversary Edition)'. Laura Burhenn (Mynabirds, Bright Eyes) rounds out the 2013 touring lineup.
Last week The Postal Service was revealed as one of the headliners of the sold out Sasquatch Music Festival in Gorge, WA on 27th May. Additional dates will be announced as they are confirmed. Check http://www.postalservicemusic.net/ for further details as they become available.
'Give Up' was certified platinum last year just shy of 10 years from its original 9th February 2003 release. Led by the single 'Such Great Heights', the landmark album is, after Nirvana's Bleach, the second-biggest selling album in Sub Pop's nearly 25-year history.
THE POSTAL SERVICE LIVE IN 2013
05/18/13 Sat – Manchester UK @ Academy 2
05/19/13 Sun – London UK @ Brixton Academy
05/20/13 Mon – London UK @ Brixton Academy