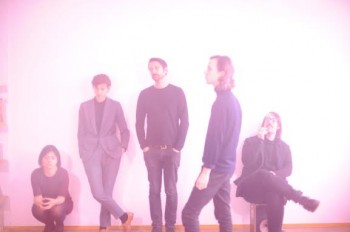 – DEAF INSTITUTE, MANCHESTER –
I've been listening to Fanfarlo since their debut album in 2009, so this gig has definitely been a long time coming. The indie/alternative electro-pop band are based in London and was formed by Swedish musician, Simon Balthazar. Throughout the years, Fanfarlo has racked up an impressive discography of three studio albums and one EP. In fact, their latest offering was released a day after this gig.
My past week was spent interning in London. So what better way to unwind after a busy week away from home than catching a gig? The crowd is thin when I arrive. I make my way towards the stage and plant myself in a comfortable frontline position.
The band plays a total of 12 songs, half from their brand new Let's Go Extinct and the rest evenly divided between Reservoir, Rooms Filled With Light and The Sea. Fanfarlo's effort in covering such a wide range of tracks in order to cater to their fans is incredibly commendable and thoughtful. Though I lament the fact that one or two favourite songs of mine, such as 'Finish Line' and 'Good Morning Midnight' were missing.
Fanfarlo delivers plenty of fun tunes in the form of 'Ghosts', 'Deconstruction' and 'Harold T. Wilkins'. The driving melodies, be they provided by keyboards or otherwise, really succeed in getting the audience bumping their heads and moving their feet.
What jumps out at me again and again throughout the night is how massively talented some of the members are. Cathy Lucas and Leon Beckenham are multi-instrumentalists in every sense of the word. Lucas plays the keys, violin, musical saw and also sings, whereas Beckenham plays the keyboards, trumpet, shaker and tambourine – sometimes all for the same track, as on 'Life In The Sky'. Balthazar is not to be forgotten in this respect, as he also plays the saxophone (on 'Deconstruction') in addition to the electric guitar and acoustic guitar.
Among my favourite songs of the night are those that feature the musical saw: 'The Beginning And The End' and 'Comets'. The sound that the instrument elicits is akin to that of a whale, and it's very ethereal and atmospheric. When combined with the acoustic guitar and the trumpet, it produces a very sweet, sensitive and beautiful song. Other favourites include 'Cell Song' and 'Landlocked'.
The show has a rather strict curfew as compared to other gigs I've been to. As such, Fanfarlo didn't even have time to get off stage and on again for the encore. With only ten minutes left, Balthazar (being the quite amusing frontman that he is) communicates with his members and says, "We can squeeze in two more songs. OK, this is the encore." They cap off the night with renditions of 'Luna' and 'Let's Go Extinct', which finally lets Balthazar shine through with his electric guitar skills.
My only gripe is that the performance takes its time in gaining momentum. It is only halfway through the setlist when the band seems to properly obtain a footing that I find myself starting to actually enjoy and get into the groove of things. But then again, perhaps they themselves are still getting into the groove of things, considering that it is only the second day on tour for them.