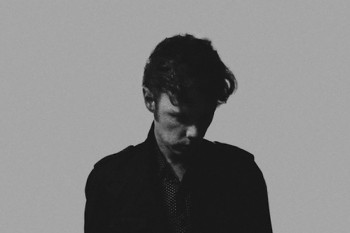 – DEAF INSTITUTE, MANCHESTER –
It is typically busy upstairs at The Deaf Institute and with good reason; Forest Swords, aka Matthew Barnes, is in town for a rare headline show. Fresh from supporting Mogwai in Europe, there is a sense of anticipation in the room long before a note is played.
 Fortunately, punters don't have to wait for the headline act for something to nod along to. Hailing from Salford, support act Gnod deliver a brooding and intense set which is stripped of the driving guitars that dominate their 2013 LP Chaudelande. This change does not make Gnod any less hypnotic, the emphasis on repetitive bass lines and electronic grooves channel noise pioneers Neu! and Suicide. Progressively becoming louder and louder the band end with an impressive onslaught of electronics that cause the floor, and possibly some in attendance, to tremble.
It is clear as Forest Swords take to the stage that this is a project borne of the desire to create rather than to be adored. An understated nod and wave to the audience from Barnes is all in the way of greeting before sitting amid electronics and instruments to play highlights from last year's critically acclaimed album Engravings. Immediately focus shifts to a projection of two Mayan masks slowly filling with smoke, which is the perfect backdrop to the eerie downtempo beats on offer.
Though Forest Swords material is the sole work of Barnes, he is joined onstage with a bass player and the sound is richer for it. The live bass adds a wonderful depth while remaining loyal to the haunting feel of the record. Having a second musician also allows Barnes a little more freedom with the introduction of new ideas which he manages expertly. Gradually, influences from dub, psych and trip hop are subtly added to create something equally unique and enthralling. Most impressive about Forest Swords is the ability to use such a wide palate of music without it ever feeling clichéd or forced.
In addition to being excellent musically, the show is visually outstanding too. Often the use of a projector can serve as a distraction but that is far from the case this evening; images ranging from falling flowers to shifting shapes are always engaging and occasionally mesmerising.
With a live show that is meticulously planned and gloriously executed, Forest Swords allows pictures to paint a thousand words and his music to muster a million more.

Forest Swords  Official  | Facebook | Twitter | Soundcloud