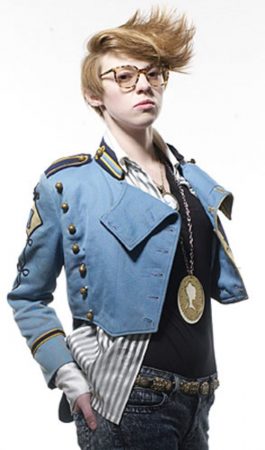 – THE ROADHOUSE, MANCHESTER –
The boys behind Manchester's bi-weekly Contort Yourself night at The Roadhouse managed to pull a rabbit from the hat tonight. The decks this evening are adorned by Rachel Barton (BBC Radio 1), Emma Chibuku and Natalie Esquire (Murkage). If for one moment you think this all-girl line-up could not be topped, then think again, as everyone in this tiny 200 capacity venue are to receive a treat with a live set from La Roux.
Unless you walk around with your eyes and ears shut, you will have noticed that the styles and sounds of '80s are making a comeback. Many acts and bedroom producers have done this with ease of late and with much popularity. So if you thinking that this red haired siren from Brixton may be just hitching a lift on the latest bandwagon, then you are gravely mistaken.
Now let's be honest here, the '80s synth sound generally didn't have much depth, it was mainly generic pop music, but it was enjoyable. Of course there were exceptions to this rule; bands such as Depeche Mode did give it a darker edge. This is where Elly Jackson sets herself aside from the others of today, as her songs are deeper and have more feeling.
This is also why she has been named as one of The Sounds of 2009 by the BBC and has also been chosen as the support on Lily Allen's upcoming UK tour.
It is nearly 1am when the five synths and one laptop are switched on and the stage lights up, all be it very slightly.
The first of this short set is her soon to be released second single 'In For The Kill', which if you have not seen the video for this yet, I would highly recommend doing so. After 'Tigerlily', 'Armour Love' and 'I'm Not Your Toy', which are all hopefully to be on the Polydor released debut album later this year, we get to hear the massively catchy 'Quicksand', her first single which was released by the ultra cool Kitsune Music label.
By this time, even the onlookers that are not familiar with whom they are seeing and hearing, have been won over by the dark electronic beats and melodies that are being complemented by Jackson's vocals. After 'Bulletproof' the set is unfortunately over, but I'm sure this is only the beginning of what should be a great year for La Roux.