From time to time, one of our contributors will recommend an artist/band they think deserves to be brought to your attention. No record labels, PR companies, bands or band's management will ever have made these recommendations. It is simply one music fan putting their taste on the line in the hope of sharing good music. The questions are intended to give just a basic introduction to possibly your new favourite artist/band.
So without further ado, let's crack on with another introduction, in which Silent Radio's Craig Nelson recommends Stealing Sheep for your audible delectation.
*****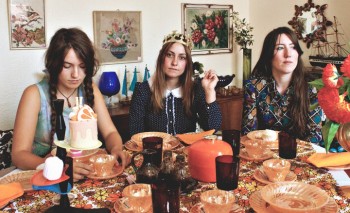 Who are ya?
Hello we are Stealing Sheep an all girl psychedelic pop band from Liverpool, with Becky on Keyboards, Emily on electric guitar and Lucy on drums. We came together last year with our début EP released by Manchester's indie-folk-pop label Red Deer Club. Now we're releasing a new EP on Valentines day called The Mountain Dogs and we're about to go on tour in the UK and Europe later in the year! Our next gig in Manchester will be at Trof in Fallowfield on Thursday, February 3.
Where are you from?
Becky is from a tiny village in Staffordshire called Abbots Bromley – made famous by the Unthanks Sisters recently, who marvelled at the bizarre Horn Dance (the oldest folk dance in the country). Emily is originally from Devon, but moved to Liverpool when she was 12, and Lucy is our true Liverpool-rooted lass!
How long have you been doing what you're doing now?
Music wise, Becky started with a noisy electronica band called Hapytap, Emily was playing bass in a girl band called Bexysitch about 4 years ago and Lucy was drumming for a gypsy blues band called The Long Finger Bandits. Stealing Sheep has existed for a year.
Is being a musician your full time job? If not, what is?
Pretty much, almost is. Aside to music we still sport glamorous jobs in waitressing, cleaning and bits of teaching.
How would you explain your sound to someone's 90 year old grandmother?
We're the modern day Andrews Sisters!
Are there any obvious influences in your music?
Lucy's drums have been compared a lot to Moe Tucker from Velvet Underground, that's maybe because she's using two mounted floor toms and a cymbal so her style is minimal, boomy and hypnotic. Vocally, I think you can hear some Feist influences, maybe Bjork and Bat for Lashes too. I'd say the guitar is quite reminiscent of 60s psychedelic bands, a bit of The Beatles and The Doors are in there too.
Are there any not so obvious influences in your music?
Yes! We like lots of Clashy styles of music, like Circus del Sol, Micachu and The Shapes, Wendy and Bonnie, Paul Simon, Square Pusher…it all seeps in, not so obviously.
Best place for people to find out what you are up to?
Virtually, I'd say Myspace – even though it's a dying trend. It has everything you need to know about us. We have a website too (homemade), www.stealingsheep.co.uk, and you should visit our Vimeo account – that's a fun few hours
Anything to declare?
Our undying love for Duncan Sime. (…he runs our label and just made us our first vinyl…yippee!)