From time to time, one of our contributors will recommend an artist/band they think deserves to be brought to your attention. No record labels, PR companies, bands or band's management will ever have made these recommendations. It is simply one music fan putting their taste on the line in the hope of sharing good music. The questions are intended to give just a basic introduction to possibly your new favourite artist/band.
So without further ado, let's crack on with another introduction, in which Silent Radio editor Simon Poole recommends Randolph Swain and the Red Lights for your audible delectation.
*****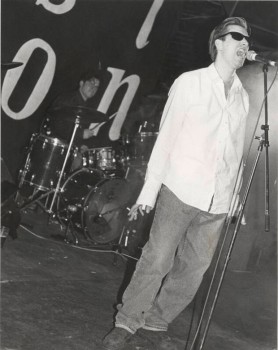 Who are ya? We are Randolph Swain and the Red Lights. We write songs about our adventures in Space. In the first LP we leave Earth and travel to the Planet Eris. Songs are added to the website and the listener is encouraged to check back weekly and follow the story as it unfolds.
Where are you from? I'm originally from Whitefield, Manchester (Earth).
How long have you been doing what you're doing now? Randolph started his journey in Sept 2012 .He bought a secondhand telescope from a carboot sale and 'allegedly' whilst spying on Mrs Jones from No 34, fell and bumped his head. On waking he discovered the new planet and that's where the adventure starts.
Is being a musician your full time job? More or less, apart from all the spacemanering. I think we are lucky to have a vibrant scene back in Manchester again.  The smaller venues are taking a real professional approach to getting people to watch live music again. And the music infrastructure such as Soundcloud and BBC introducing programs means that bands can produce their own music and get it heard very very easily.
How would you explain your sound to someone's 90 year old grandmother? You can't 'explain' music to anyone however in basic terms I suppose you might call us Mock Rock. It's sweeping guitars and angst vocals but with a determination to comment on the human condition placed in an extreme situation. I SAID IT'S SWEEPING GUITARS…oh, forget it .
Are there any obvious influences in your music? I grew up with post-punk and Bowie and everything that came with that (Violent Femmes, Talking Heads etc) but the music is only part of what we do. I have always been interested in albums which are 'themed' and the idea of telling an indefinite story to me is appealing.
Are there any not so obvious influences in your music? Gravity (or the lack of it in our case) has a big influence on us all.
Apart from yourself of course, what other band/artist would you recommend our readers check out? Two bands I recently came across on Twitter were a great band from London called Subrosa and also The Watchmakers from Manchester.
Best place for people to find out what you are up to? Check out our website WWW.RANDOLPHSWAIN.COM has all the stories and free downloads of all the songs. Also check back on the wonderful and informative https://www.silentradio.co.uk
Anything to declare?  Just a little insight into our next project. We have been collaborating with a very talented filmmaker, Carl Arnfield from Chalkman Video http://www.chalkmanvideo.com/ and should be producing a very exciting video later this year.