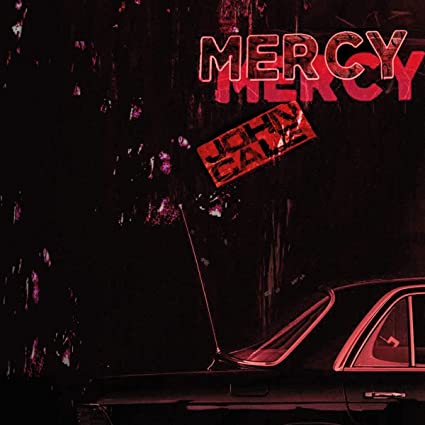 'Mercy' is the first new album in over ten years from the Welsh legend and former Velvet Underground member, however those expecting an album of rock n roll tunes, should know by now that Cale likes to look forwards, not backwards, living by his own musical expectations and no one else's. It's one of the reasons 'Mercy' finds him still continuing to push musical boundaries at age eighty, with sweeping synths, beats, a host of exciting collaborators, and Cale's emotive vocal melodies over the top throughout. 
Opening title track 'Mercy' is a cavernous soundscape with all manner of electronics gliding in and out of the main tune, whereas. 'Noise Of You' has strings creating a delicate tension between the looping main vocal melody and synths. Weyes Blood collaborates on 'Story Of Blood' with gorgeous vocals over a glitchy electro drumbeat, managing to be uplifting yet hauntingly unnerving at the same time, as melodies dance around each other. 'Moonstruck (Nico's Song)' commences with reflections on his former bandmate and her struggles "you're a moonstruck junkie lady staring at your feet, and "II have come to make my peace" he states elsewhere in the tune, all this set against a gentle  pulsating electro rhythm, and amassed vocals which weave in and out.
The intriguing collaborations continue with 'Everlasting Days' finding Cale joining forces with Animal Collective for a glitchy beat driven musing, with slow moody sounding strings, and woozy sampled backing vocals, whereas 'The Legal Status Of Ice' is a collaboration with The Fat White Family and is a beat fuelled, hypnotic, chant based tune with synths layering the rich melodies and Cale's deep vocal lines propelling the mantra along. One of the most joyous tunes on here is 'I Know You're Happy',  co-written with NY based electro artist Tei Shi, which sees  loops, synths and vocal lines swooping and soaring all over the place to create a glorious soundscape. 
Cale's music has always existed in a realm of its own, not quite electro, not quite ambient, not indie rock, but some weird and wonderful hybrid off them all. 'Mercy' is a testament to Cale's forward thinking musical vision, and one worth waiting ten years for. 
John Cale – Mercy: Out 20th January 2023 (Double Six / Domino Records)