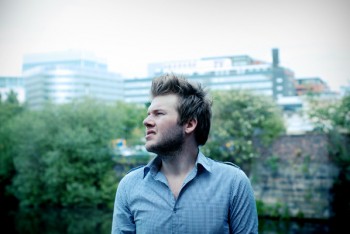 Silent Radio's collective fingers and toes will be firmly crossed for Manchester's Liam Frost this weekend as he bids to finally break into the big time. Early signs are promising for Hold Your Hand in Mine – the first single from Liam's second album, We Ain't Got No Money, Honey, But We Got Rain.
The instantly catchy duet with Martha Wainwright has received plenty of airplay since its release on Monday (18/01/10) and the singer songwriter has backed that up with cracking sessions on Absolute Radio and Lauren Laverne's show on BBC 6 Music. With such exposure, there is every chance that the song could give Liam his first real taste of chart success, but the Prestwich-born musician is not counting his chickens just yet.
His debut album, Show Me How the Spectares Dance, earned plenty of critical acclaim on its release in September, 2006, but a lukewarm commercial response and inner wranglings in Liam's record label has led to a spell in the musical wilderness.
Now, almost three years after his split with Columbia Records, it looks like this could finally be Liam's time to shine.
********************
"Things are going better than I ever expected and it feels great," said Liam. "It feels like I have waited such a long time for this and I am going to enjoy every minute of it.
"I don't know whether it's because we got Martha on board, but it feels really good, and a little strange, to hear my single on the radio. I have to keep pinching myself. Martha is one of my heroes, she's brilliant, so I still feel pretty star struck."
"Appearing on radio shows and meeting people like Lauren Laverne is weird too. So I'm just going to drink it all in and then see if I can take the next step and get more people into my music."
Liam's second coming started back in 2007, when he was dropped from Columbia.
He spent a bit of time back home with his sister in Prestwich then went on a trip to the Arctic with Cape Farewell, a project that takes artists and scientists to places where climate change is taking effect.
This voyage of discovery helped put Liam back on track. Returning with new material and a new focus, the young singer hooked up with Ed Harcourt, who helped to channel his new found confidence and creativity. The pair wrote a handful of songs together, including Hold Your Hand in Mine, which they recorded in New York with legendary producer Vick Van Vugt (Nick Cave and PJ Harvey).It was Vick who suggested getting Martha Wainwright on board for the new single, but, as Liam is getting used to, the project took a while to get off the ground.
Liam said: "When we realised that the song was shaping into a duet, quite a few names were suggested that I didn't fancy, and then Vick mentioned he knew Martha and I thought she would be perfect.
"We recorded my part of the song in late 2007 then sent the demo off to Martha, but we didn't hear anything back from her for what felt like ages. "I had gotten used to the idea that it wasn't going to happen then had this call out of the blue from Martha. She said that she was listening to my demo driving down Santa Monica Boulevard and she loved it. It was all very surreal."
"The whole thing has been pretty protracted since then. Martha recorded her parts in Los Angeles so it still didn't feel real. It wasn't until I finally heard the song on the radio that it really started to sink in."
Liam is hoping that the single will turn people onto his second album, which was released on Emporer Records in September last year. He is hoping to tour the unashamedly upbeat record, which Liam says was inspired by the music of Bruce Springstein, with a full band.
Dates are still up in the air, but Liam will be getting the show on the road at Moho Live in Manchester on Tuesday, February 11.
"I will never be one of those people who move to London as soon as they get a whiff of success," said Liam. "Manchester is my hometown and I always feel at home when I play here, so I'm really looking forward to the gig. I spent 21 years growing up in a council estate in Prestwich, near Butterstile Lane. When I signed my first record deal I moved into a flat in Manchester city centre and I've been skint ever since, so I like to think I have plenty in common with most of my audience."
Hold Your Hand in Mine is available to buy or download. To find out more visit www.liamfrost.co.uk.
Boon Army and Invention present Liam Frost with full band at Moho Live on Tib Street, Manchester, on Tuesday, February 11. Jesse Road Trip, Orchids and Reveres will be supporting, and Clint Boon will be performing a DJ set. Tickets are £7. Call 0161 834 8188 or visit www.moholive.com for full ticket details.