From time to time, one of our contributors will recommend an artist/band they think deserves to be brought to your attention. No record labels, PR companies, bands or band's management will ever have made these recommendations. It is simply one music fan putting their taste on the line in the hope of sharing good music. The questions are intended to give just a basic introduction to possibly your new favourite artist/band.
So without further ado, let's crack on with another introduction, in which Silent Radio's David McFarlane recommends Sittin' Pretty for your audible delectation.
*****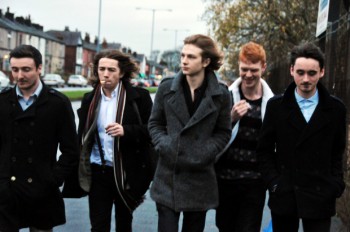 Who are ya?
Sittin' Pretty, particularly without the G. (Conor, Cameron, George, Jack, Lewis)
Where are you from? 
Bolton. The Streets of Bolton.
How long have you been doing what you're doing now?
18 months-ish. 18 months to life. Well we've been in bands together all through school, but this one 18 months-ish.
Is being a musician your full time job?
Unfortunately not. If only.
Are there any obvious influences in your music?
A lot of blues rock, Arctic Monkeys, Jackson C Frank, The Libertines.
Are there any not so obvious influences in your music?
Bill Withers, Santana. We're not a very joyful band but that is definitely a big part of what we do.
Any musical Guilty Pleasures? Come on you can share, we're all friends here!
Where do we even start? Grease. Conor really really likes Jake Bugg (the rest of the band sigh, head in hands). Cameron really likes Norah Jones, that's not so guilty though. George says Prince and Michael Jackson. Also, Jack likes that one Toploader song.
Apart from yourself of course, what other band/artist would you recommend our readers check out?
Hora Douse for their raucous live shows. Also Alisha Harrison, she's really good. Eaves. And Alex Hough, we really like her.
Tell us about the defining moment when you thought 'Fuck, yes I want to be a musician!'
Vivvy G's 50th! We were just sat in Cameron's back garden really drunk at his mum's 50th, and we were like 'I play guitar. You play guitar. You – you play drums. And that's basically how we started a band. And George came into it because we needed a bassist and he plays guitar, so he got demoted in the world of fretted instruments.
Does what go on, on tour, stay on tour?
If we went on tour! If we could afford a tour, yes. Although we're bound by shaman law, what goes on tour, stays on tour. Actually if we all had a bit of money and freedom, we'd all fuck it badly. Full on crack addicts.
What's your most favourite gig (as a gig goer)?
Liverpool Castle, Bombay Bicycle Club. Libertines at Leeds, Babyshambles at Liverpool. Bon Iver live at the Apollo, on his second album as well so it was all epic. Unreal. George wants to throw in the Manc card and say Oasis at Heaton Park.
Who, in your wildest dreams would you like to collaborate with/be produced by?
Jack White, he still does everything the old way and is generally a creative genius.
Best place for people to find out what you are up to?
We're on Facebook mainly, but Twitter and Soundcloud as well
Anything to declare?
Just say neigh to ket