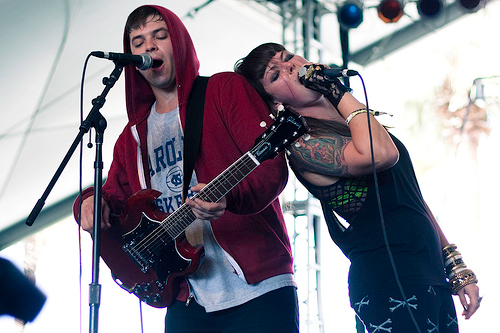 – THE DEAF INSTITUTE, MANCHESTER –
Tonight's gig is Sold Out with a capital Hype. Bodies jostle for non-existent dancing space, condensation drips from the windows and it takes so long to push your way to the smoking area, it might as well be on the top of Mount Kilimanjaro.
Probably just as well for Tennis that everyone is trapped in the main room like an arty-haircutted Strangeways for cider drinkers. The husband/wife drummer from Denver make swooning, prom-night symphonies so twee and lovely that dancefloor shoving is replaced by bobbing heads and swaying. Frontwoman Alaina Moore eschews guitars for a Hammond organ and – like a cross between a Geography teacher and Kate Bush – she swishes her long, curly hair in an unintentionally comedic Wuthering Robot routine between verses. Crowd favourite 'Marathon' is a ringer for the croon classic 'Teenager in Love' while 'Bimini Bay' is all surfy guitars and haunting harmonies. Like a stripped-down Dum Dum Girls or an upbeat, honey-voiced Maria Taylor, the trio bring 60's-drenched sunshine to an otherwise shitty Manchester evening.
Sleigh Bells are an odd one to call. Born out of a head-on collision between ex-Poison the Well guitarist Derek Miller and statuesque, yelping powerhouse Alexis Krauss, the only thing the band are decking the halls with is raw, sonic noise. Oh, it's loud.
Signed to MIA's imprint label NEET Records, the duo are an exercise in offbeat, fucked-up pop music and now, the anticipation for their live show is like a giant, shaken-up can of coke that's about to explode.
The lights go out, and there's audible confusion as the opening bars of Fleetwood Mac's 'Everywhere' ring out through the darkness. Suddenly, an epilepsy-inducing torrent of strobe lights attack like indoor fireworks as Mick and co are drowned out by a blast of gritty hardcore from the towering wall of 8-foot speakers.
The pair take to the stage without a word and unleash 'A/B Machines' – a menacing, beat-heavy freak out, laced with nonchalant vocal repetition. The set-up draws obvious visual comparisons to The Kills – his discordant axe-grinding and her prowling in circles like a wild-animal – but there's no sign of intentional cooler-than-thou aloofness, more an all-inclusive dance party shepherded by a mentalist in spandex leggings.
Ironically, given that Miller produced and played all of the instruments on their debut release 'Treats', he's given precious little to do tonight. Backing-tracked guitars and harmonies give their sound a much-needed punch, and he seems quite happy to let Krauss take the lead as she clasps hands with the front row, casually plucking a camera-phone from the crowd and turning it on herself as she writhes around on her knees.
Pre-recorded help aside, song after song is a genius, riff-laden burst of energy. The brilliantly deranged 'Kids' and 'Tell Em' are shoehorned perfectly alongside the better-known 'Infinity Guitars' and current single 'Riot Rhythm'. The blissed-out 'Rill Rill' sneers at misfiring comparisons to the likes of Crystal Castles as Krauss replaces shrieking with sickly-sweet. Last song 'Crown on the Ground' ensures that the select few crowd-members who haven't already been deafened will leave with a party bag of tinnitus and hair that smells of beer. All in all, whether the band have the longevity to record another album as good as this isn't important – when Sleigh Bells ring, you will listen.