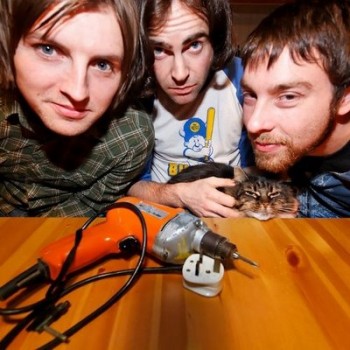 – THE RUBY LOUNGE, MANCHESTER –
Intense, heavy rock can often be a po-faced affair with little room for humour or playfulness, so what better way to obliterate any lingering post-Christmas blues than a couple of hours in the company of Kong and Future Of The Left, two bands who are fully capable of creating an ear shredding noise, but whose lyrics and onstage antics are also known to extract a laugh or two.
The Ruby Lounge is already packed as Kong begin their set, with all three members donning their trademark home masks which look like they have been constructed using cellotape, mini post it notes and make up, and whose appearance ranges from comical to downright disturbing depending on how the light catches them.
The songs are well constructed, built on heavy bass lines, fractured slabs of thrashed guitar, powerful, precise drumming and wonderfully monikered singer, Magpie's, frantic screams. He addresses the audience in a northern squeal which recalls Johnny Vegas at his most energetic and agitated, and full of bravado he invites everyone to "make some noise – we're the best thing you've seen all day." Kong have built up a loyal and devoted following at their shows in Manchester over the last few years, and on this evidence it's easy to see why.
The crowd are shouting singer Andy "Falco" Falkous' name a good ten minutes before Future Of The Left take to the stage, and when they finally arrive they waste no time in making the most of the energy being generated as they rip through 'Arming Eritrea' and 'Chin Music,' the first two tracks from last years excellent 'Travels With Myself And Another' album. The crowd responds with even more vigour, the kids at the front already bouncing manically and shouting along with every word.
The whole set is littered with fast and heavy two and three minute songs which never fail to hit the spot. The distorted bass and keyboards of 'You Need Satan More Than He Needs You' has the whole venue vibrating, and by the time 'The Hope That House Built' sees Falkous invite us all to "join our hopeless cause" you get the impression that most of the people in here would sign up in an instant.
Throughout the course of the evening the band take time out to joke and banter, both with each other and the crowd, covering issues such as the Magic Numbers rider, Margaret Thatcher's resemblance to a Police Academy character, and a brilliant memorial to celebrities who passed away in 2009 which includes Billy Corgan (don't worry Pumpkins fans, he's not really dead) who apparently "died of being a twat."
Towards the end of the gig some of their schtick wears a little thin, especially when you consider they could fit another four or five songs in the time they spend joking around, but it's hard to begrudge them this, especially when it's this kind of attitude and tomfoolery that marks them out and for the most part makes them such a great spectacle.
In the end the audience leaves having witnessed a seriously good band who don't take themselves too seriously. You can't ask for much more than that.