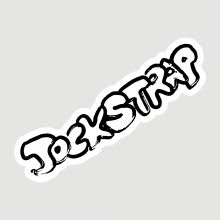 Preeminent exponents of the "thank goodness they don't sound like their name" genre, Jockstrap somehow conjure a unique, distinctive sound out of a careening mishmash of genres, surprising the listener with their mischievous, often discomforting approach. They first came to attention with 2020's 'The City' which set out as a fragile ballad before transforming into frantic beats and samples, a rare moment of being discombobulated by a song. 
Jockstrap formed when Georgia Ellery and Taylor Skye met in a composition class at London's Guildhall School of Music. Ellery was studying jazz violin and Skye music production. Their disparate influences enable them to adapt a magpie approach, filching from multiple genres. Their outlook and capacity to switch from minimalism to bombast is illustrated with opener 'Neon' which starts with slow strummed guitar and Ellery's crystalline voice, which is Jockstrap's greatest asset, before the unexpected arrival of warped beats, bursts of flinching noise and a keyboard twirling ferociously. 
'Jennifer B' leaps in with abstract techno beats, bursts of orchestration, a sampled American southern states voice moaning about someone "Shifting about in her goddamn crochet pants staring at god knows what" in a song about fantasy and power. 'Greatest Hits' aptly has their smoothest dance groove with a 1980s production and euphoric, soulful blast of a chorus, "I believe in dreams / Do you?" while also indulging its playful side "imagine I'm Madonna / imagine I'm THE Madonna".
'What's It All About?' feels like an appropriate response to Jockstrap, its strummed guitars and orchestration accompanying a tale of a disappointingly chaste relationship. 'Concrete Over Water' highlights Ellery's gorgeous voice recounting reminiscences of Italy, Spain and champagne, coming to see the band, playfully noting "never lonely in holy metronomy" (but not pronounced like the name of Joe Mount's band). The song ends with sounds of speeded up voices in multiple languages like radio channels being switched at hyper speed.
'Angst' is a fragile ballad to plucked harp accompaniment and brutal imagery to illustrate the metaphor of angst like a baby growing inside. In contrast, 'Debra' starts as an industrial noise piece then veers into Eastern pop, even echoes of Bollywood, while lyrically dealing with knotty themes ("Pain is real /And love is real/ But pain is also growth / And grief is just love with nowhere to go").
'Glasgow' builds from harp to one of their great orchestrated choruses but with further lyrical peculiarities ("You checked into a holiday spa / Broke it off with your man and left in the getaway car / The days went on and I thought, 'This is poor rapport'"). 'Lancaster Court' has a freak folk air with the occasional blast of power electronics and more startling, uncomfortable lyrics ("I try to avoid my own gaze / But when I catch that pervert / I cannot look away"). After all their shimmies, the final track '50/50 Extended Mix' feels relatively one-dimensional in its glitchy, banging electro dance.
It would have been easy for their wrong-footing techniques to become wearisome over the course of an album but with 'I Love You Jennifer B' Jockstrap prove themselves capable of beguiling charm and the musical equivalent of the Cruyff turn leaving listeners gleefully floundering in their wake.
Jockstrap: I Love You Jennifer B – Out now (Rough Trade)