The UK has a long, illustrious line of gently psychedelic guitar pop bands going right back to the likes of The Moody Blues (you better believe it), through XTC, Shack and The Coral, proponents all of sweet, sweet melodies and lush, pastoral arrangements. The Chemistry Set can – and should – count themselves as part of that line. Originating in the late 1980s, their (unreleased) debut album, Sounds Like Painting, was readied just in time to be overlooked by another album dripping with Love and The Byrds (that's "The Stone Roses"…just, you know, in case…). From that point on though, The Chemistry Set's history becomes pretty much the stuff of murk and legend. Until 2008, that is, when founder members Paul Lake and Dave McLean rebanded and started on the path that leads to the release of This Day Will Never Happen Again.
The album zings in on 'El Retorno', a crisp slab of tremolo guitars and reverb-soaked vocals, Love-ish muted trumpets parping away in the background. Momentum quickly achieved, the album's high point follows – 'Sheer Tazer Luv' is a glorious wash of major chords, bright horns and sugary harmonies. And if that sounds like it might be a little bit like The Boo Radleys' poppier moments, well, you'd be cock on. The psychedelically pastoral switch is flipped on 'The World is Hollow and I Touched the Sky' (that title alone could come from Atom Heart Mother) – swirling sounds, phased effects and Fafisa organ to the fore. A twelve-string, sixties-dusted riff chimes 'She's Taking Me Down' in, soon joined by another monumental chorus that may take months to dislodge from your brain. There might even be a vocoder in there. Modern! In short; this is an almost flawless opening to the album.
Now, the problem with gently psychedelic guitar pop records is that they have a tendency to disappear up their collective behinds. In fairness to The Chemistry Set, the godawful lyrics and gratuitous mish-mash of melodies on 'Silver Birch' aren't entirely their fault – it's a cover of a Del Shannon track. But it's so entirely at odds with the first quarter hour of the album, it's almost painful. And from thereon in, This Day Will Never Happen Again veers between the two extremes. The guitars are set for jangle again on the title track and on 'Seeing Upside Down'. But then we're back in cringe territory on 'Look to the Sky' ("Wandering round in a world of your creation / Hearing the sound of your own imagination" Like…wow, man). 'If Rome Was Meant to Fall' could easily be from Shack's peerless HMS Fable album (and that's praise), and if 'We Live As We Dream…Alone' heads back down the gossamer, patchouli-scented grassy lane again, well this time it's a little more focussed and a little more lovely.
The album proper closes on a cover of The Rolling Stones' 'We Love You' (or as TCS would have it, "We Luv You"). It's probably a little too cleanly executed to be the euphoric, anthemic closer they probably meant it to be, but the sentiment's a nice one. There are some extras bundled in, some Spanish/French versions and some remixes, but they're largely inconsequential to the main album. If you can overlook the occasional over-indulgences here, This Day Will Never Happen Again will sit in your record collection (oh alright, alright…your iTunes) and nestle happily against your Coral, Shack and Love for evermore. What do you mean you don't have any Coral…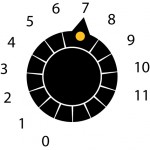 Release Date 24/01/2011 (Hypnote)