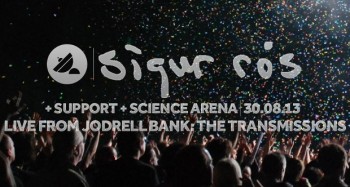 'INCOMING TRANSMISSION'
The multi award winning Live From Jodrell Bank series is thrilled to announce another Transmission from the Jodrell Bank Observatory in Cheshire.  Sigur Rós are confirmed to headline this unique event in the shadow of the iconic Lovell Telescope, one of the biggest and most powerful radio telescopes in the world.
Previous Live From Jodrell Bank shows with Elbow and The Flaming Lips have sold out and the events have been euphoric affairs, marrying science and music in this stunning location.
Elbow's Guy Garvey and The Flaming Lips' Wayne Coyne have cited the shows as among the most amazing they have ever played. Elbow will release a full length version as their first ever live DVD later this year.
Sigur Rós follow in their footsteps and the much celebrated ambient / post rock band from Reykjavík are a pioneering force in a creative and vibrant Icelandic music scene.  Their immensely beautiful songs are pure, honest and timeless and their live shows have received international critical acclaim.  The band has released 6 studio albums and with an expansive sound and gargantuan visual light show they are the perfect band to immerse the audience and venue in their cinematic soundscapes.
The Live From Jodrell Bank series sees some of the most innovative artists performing in this unique and dramatic setting, marrying science and music and bringing the audience superlative sounds from earth and beyond.  The bands will even project visuals onto the 76 metre Lovell telescope.
Before the spectacular evening concerts and throughout each day, attendees will be able to participate in a fantastic range of hands-on experiments and workshops on site at Jodrell Bank.  With full access to the magnificent Discovery Centre included in every ticket, this is a great chance to find out more about the mind-blowing research happening at Jodrell Bank and beyond.  Explore the wonders of the universe and find out for yourself why stargazing has enjoyed a massive resurgence in the past few years.
For over five decades, the giant Lovell Telescope at Jodrell Bank has been part of the Cheshire landscape and an internationally renowned landmark for astronomers.  Since the summer of 1957 it has been exploring the depths of outer space in a quest for knowledge.  It remains one of the biggest and most powerful radio telescopes in the world, spending most of its time investigating cosmic phenomena that were undreamed of when it was first conceived.
Further transmissions to be announced…
Friday 30th August
Tickets onsale Friday the 18th of January at 9am
Tickets £35 // no age restriction
www.ticketline.co.uk
Sigur Rós at Live From Jodrell Bank promo