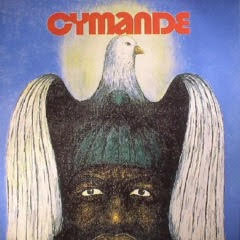 Patience is a virtue that Cymande have been forced to learn. Largely ignored in their homeland between the release of their self-titled debut in 1972 and splitting three years later after two further albums, they were embraced in the US. In the intervening years, the London band's fusion of influences from their Guyanese and Jamaican roots bringing together American funk with reggae bass lines, psychedelic touches and African percussion which they called 'nyah-rock' made them one of the most sampled bands, their music adding to recordings by Grandmaster Flash, De La Soul, The Wu-Tang Clan, Gang Starr, Fatboy Slim and The Fugees.
Recently they have gained a place amongst the canon of early 1970s music, their finest tunes finally recognised as the classics they always were. Consequently, the fiftieth anniversary rerelease of their debut album is likely to have a much greater impact this time around. The album has tracks that display Cymande at their funky best: 'Getting It Back' blends Steve Scipio's grooving bass line with horn punctuation, Pablo Gonsales' conga flourishes and Ray King's soulful vocals; 'Bra' has a monumental swing, a laser-focussed groove and some distinctive percussive action; and 'The Message' is wrapped in a killer bass line and Peter Serreo's equally magnificent sax melodies.
Without being strident, there is a consciousness angle to their music exemplified by 'Listen', a restrained call to action, anti-timewasting, with wah-wah guitar recalling 'Cloud Nine' era Temptations. The title of opening track 'Zion I' instantly posits its Rastafarian roots with its deep bass, chanting, African percussion, flautist Mike Rose's zestful playing inspiring the inclination to indulge in some air flute, positioning them as the unlikely missing link between Jethro Tull and Lizzo while surely an influence on Goat. 'Rastafarian Folk Song' is an oddity beginning with a spoken word dedication to "the world's first hippies/ Hail Jah Rastafari" which blends reggae with what sounds suspiciously like the melody of 'Little Drummer Boy' while 'Mighty Heavy Load' mixes reggae with spiritual. 
The album contains a few instrumental tracks of varying quality. Rickshaw' is fantastic with its prominent Afro-tinged Nyabinghi percussion and flute wig-outs. 'One More' is a gentle instrumental with moody guitar and plaintive horns but the 11 minutes of 'Dove' make minimal impact which is a shame as in effect it is their theme song, Cymande being the calypso word for dove.
Maybe that variety meant '70s tastemakers shunned them as too difficult to categorise. However, now triumphantly reformed they have a new album scheduled for release in 2023 plus the UK screening debut of a documentary about them, 'Getting It Back: The Story of Cymande'.
Cymande: Cymande – Out 13th January 2023 (Partisan Records)