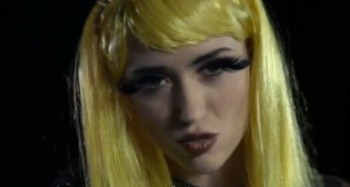 'Cold Hard Rock' is the fuzzed up, anti fairy-tale from suburban punkette, FOE aka Hannah Louise Clark, and will be her debut release on Vertigo Records. 
Foe's previous border-crossing offerings 'Deep Water Heart Breaker' and EP 'Hot New Trash' gave a glimpse into the wonderfully deranged world of a fancy dress loving loner from Fleet.
Foe was born out of an alienated school experience, a love of history's left of centre mavericks – Dahl, Lynch, Hitchcock, Zappa, PJ Harvey – and a chance meeting with a likeminded musical nomad, Entrepreneurs.
New single 'Cold Hard Rock' – produced by Entrepreneurs and mixed by Dan Grech (The Vaccines, Howling Bells) – is a prime slice of Hammer-horror grunge pop about adultery, sinking feelings of being betrayed and overwhelming sadness, culminating in the lingering line – "sea's coming it's dragging me down". 
Staying true to her 90's DIY routes, Foe has produced a limited edition fanzine, this time with help from her friend Max Kinghorn-Mills (Wildeflower) which will be available at gigs, following on from the macabre tale of the Deep Water Heartbreaker. 
After headlining a pulverising UK tour and playing coveted support slots for the likes of Mercury nominees Metronomy and German hard-core band Atari Teenage Riot, Foe will be taking to the road again in January. This is unabashedly scuzzy and daring thrash rock-pop – introducing the darker side of 2012.
Catch FOE live in January:
Edinburgh – Electric Circus – Thursday 19th
Stockton – Ku Bar – Friday 20th
Leeds – Cockpit – Saturday 21st
Manchester – Castle Hotel- Sunday 22nd
Cardiff – Buffalo Bar – Monday 23rd
Southampton – Joiners – Tuesday 24th
Exeter- Cavern – Wednesday 25th
Tunbridge Wells- Forum –Thursday 26th
Winchester – The Railway – Friday 27th
Aldershot – West End Centre -Saturday 28th
London – Barfly – Monday 30th