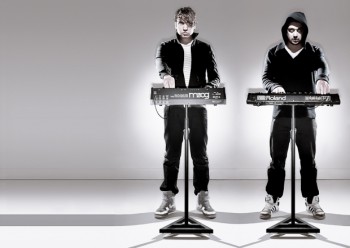 There are a couple of things you need to know about brothers David and Neil Newport. Firstly, they come from Manchester. Secondly, they don't play guitars. And, finally, they create commanding electronic arrangements from old school analogue synths.
Or at least they do under the Shmoo guise, with critical comparisons already being drawn to an unarguably danceable melting pot featuring luminaries like Kraftwerk, Orbital, Daft Punk, and MGMT. Then again, with vocal lines crying out closer to some of rock's biggest stadium filling names, clearly there's more to the concoction than those references imply.
Certainly enough to grab the attention of BBC Introducing Manchester and Oxford, in the process building a strong following amongst those who enjoy dirty, bass heavy anthemic songs. Now set to showcase their formidable live show across the UK, a performance that edges towards improvisation and boasts more than a little punk ethic, the opportunity to catch the sonic siblings, along with their monolithic arpeggios and soaring soundscapes, should certainly not be missed.
Headline tour dates: 
Deaf Institute (Manchester) Sat 19th Jan
The Kazimier (Liverpool) Thursday 7th Feb
Rhythm Factory (London) Sat 9th Feb
Rainbow Warehouse (Birmingham) Wed 13th Feb