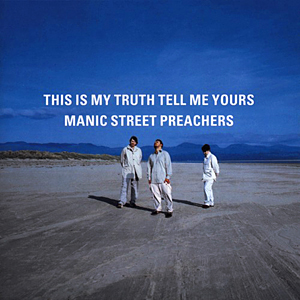 Let's face it, everyone loves a good boxset! They're a thing of gorgeous, geeky musical indulgence, and as the years go by, and anniversaries of cherished albums come and go, more and more of them are being remastered and repackaged in this stylish manner. Although some feel that it's a slightly unnecessary move by their favourite bands to ask people to cough up again for an album, it's often a worthy investment, as these re-packaged albums often hold previously unreleased gems, and alternative takes of your much loved album tracks, plus with the benefit of hindsight, a lot of these albums are given a new lease of life. When this album was first released, back in 1998 Manic Street Preachers were riding high on the back of the success of their huge breakthrough album 'A Design For Life', and this follow up attempted to keep that delicate balance between huge mainstream success and remaining true to their art, political persuasions, and defiantly rebellious nature. After years of having a devoted indie fan following, the Manics were suddenly an arena band, yet what remained so endearing about them was the fact that they did it on their own terms, and let the music world catch up with them. Maybe this album somehow fell in the shadow of its hit generating predecessor, but it felt as if this one never fully got the critical recognition it deserved, despite huge commercial success.
Now with its twentieth anniversary re-mastered release, listening to the songs again makes you realise just what a bunch of ingenious songwriters the Manics are. At the height of Britpop, they wrote about the Welsh volunteers who joined in with the Spanish Civil War in 'If You Tolerate This, Then Your Children Will Be Next', and also managed to continue the huge anthemic guitar sounds they'd been dealing in, with tunes such as 'You Stole The Sun From My Heart' and 'Tsunami'. It wasn't all gigantic sounding anthems though, as the more subtle 'My Little Empire' reveals, with James Dean Bradfield's voice sticking to a quieter, relaxed tone, as opposed to the massive bellowing enthusiastic vocal performance he's famed for, plus a gentle cello backing completes the overall subtle approach. There's the elegantly stated 'Be Natural' with its anthemic yet somehow underrated melodies, and the upbeat rhythms of 'Black Dog On My Shoulder' making the darker lyrical content, with its subtle shuffling rhythms, sweeping strings and one of Dean Bradfield's great yet subtle guitar melodies weaving around. Nicky Wire's lyrics always felt more poetic than most bands would even attempt "the context of the song, well I could go on and on, but it's still unfashionable to believe in principles" they sing on S.Y.M.M (which stands for South Yorkshire Mass Murderer). Then there's the highly danceable keyboards and rhythms of 'Prologue To History' with Wire's lyrics in full poetic flow again with discussing everything from the criticism received over his musical ability "a poet who can't play guitar" to Steve Ovett, Dyson vacuums, politicians, Shaun Ryder and Phil Beckett, while the danceable rhythms pound away and guitars launch skywards with their melodic solos.
Album 2 contains live rehearsal recordings and demo versions of song which make up the album, and it's always interesting hearing how songs have developed from these works in progress to the finished article, and it's a real eye-opener to hear these alternate versions. The home demo recording of 'I'm Not Working', shows just how songs start to take shape, and can still be as emotionally effective with just James Dean Bradfield's voice and guitar.
Album 3 has b-sides and remixes, which again provide great alternative versions of some of the best tunes on the album. Stand out remixes are Massive Attack's re-working of  'If You Tolerate This Then Your Children will Be Next' with its cavernous beats and electronica managing to keep the melodies afloat whilst lending that hint if Massive Attack melancholy to proceedings. Plus there's fantastic versions of 'You Stole The Sun From My Heart' by David Holmes, with plenty of extra beats, samples and flutes, and Mogwai's version of the same song, with its delicately unfolding soundscapes.
It's a refreshing blast to your eardrums to re-discover the genius of this album, and whether you're an avid Manics fan or not, this collection of the remastered album, demos, b-sides and remixes gives an intriguing glimpse into the art of song writing, and the different variations and enhancements that can lend a new perspective or boost to a tune. This boxset is a beautiful beast, with a glossy full colour booklet and info surrounding these recordings, and enhances what is already a great three album audio collection. In the intervening years since this album's first release, the Manics have cemented their place as one of the UK's finest guitar bands ever, and with this boxset of 'This Is My Truth, Tell Me Yours' have landed a great reminder of just how uniquely brilliant they are.
This Is My Truth Tell Me Yours: 20th Anniversary Collectors Edition: Out Now (Colombia / Sony Records)