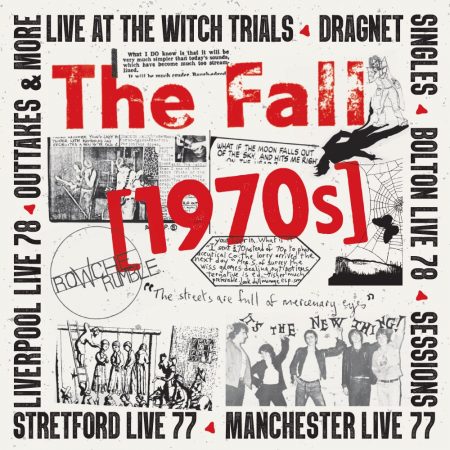 There have probably been as many box sets and reissues of The Fall's material, as there have been members in the band, it was once stated that you couldn't walk more than a few yards in Manchester without bumping into a former member of The Fall. Yet this beautifully packaged new collection presents an enticingly different perspective on the band. A twelve disc boxset containing all of the band's output in the decade that was the seventies – the albums 'Live At The Witch Trials', 'Dragnet', all the singles, eight live shows (many previously unreleased), and one which is even thought to be their first ever live gig.
There have been many books written about The Fall, different versions of events, each with their own unique take on the band, but one think they have in common is that they seem to all agree that 1970's Fall was the most punk influenced, and the one, even through numerous line up changes, which attempted to really push musical boundaries, all done with a nonchalant playfulness on board too. As The Fall's long serving bassist Steve Hanley states in his brilliant autobiography The Big Midweek, "Mark Smith never sings anything you'd expect, and what he sings doesn't mean what you think it does". They were a complete enigma, a band infused with a punk ethos, yet defiantly adding their own unique creative touch, more in line with both the glam rock of Bowie and Bolan plus the experimental German bands such as Can and Neu, all of which fed into the melting pot of inspirations the various band members used to create that Fall sound. 
'Live At The Witch Trials' fills up Disc One and is an album bursting with punk energy, but not in the more familiar frenetic angry approach, as there's the catchy 'Rebellious Jukebox' and the sprawling superb opus of an album closer 'Music Scene'. The Fall's debut album is a band straddling the boundaries between their influences to create a sound that in 1979 was strikingly different to anything that had gone before.
"I don't sing I just shout" Mark E Smith states on 'Your Heart Out' from second album Dragnet, which occupies Disc Two. Elsewhere there's the Bo Diddly twang and rhythms employed on 'Dice Man' showing a slightly more melodic approach on this second album, even if the sound was still raw, as both band and producer didn't want too many production effects messing up the original punch of the recorded performances. Disc Three has the excellent singles released during this period, including 'Bingo Masters Breakout' with its rabble rousing chorus and keyboards elsewhere 'Repetition' finds Mark E Smith announcing the mantra "We've got repetition in our music and we're never going to lose it", again harking back to the band's krautrock influences. 
Then there's the exuberant 'Rowche Rumble' one of my favourite Fall singles, with its hefty stomping chorus. Good job it's such a Fall classic as there's four different takes of it on Disc Four  There's also the two Peel Sessions from 1978, which includes a great version of classic Fall punk tune 'No Xmas For John Quays'. Disc Four also unveils two live tracks from their October 1977 set at The Electric Circus, Manchester. Disc Five has a live set from May 1977 recorded at North West Arts, believed to be their first recorded gig, whereas Disc Six has another live set from that year, recorded at Band On The Wall in November with a sublime version of 'Oh Brother'  The live action continues on Disc Seven with the set from Stretford Civic Theatre in December 1977 with a brilliant versions of 'Industrial Estate' and a set closing spectacular of 'Louie Louie' and Disc Eight reveals its gems with a live set from Mr Pickwick's in Liverpool in August 1978. Disc Nine has a set from Nov 1978 recorded at The Carlton Club, Warrington whereas Disc Ten's live entertainment comes in the shape of a set from The Bolton Institute of Technology in December 1978. For the final two discs in this bumper package we head down south for a gig recorded at The Prince Of Wales Centre, London, September 1978 and a Midlands gig from JBs in Dudley November 1979.
Although these recordings may have been made from placing a tape recorder somewhere near the stage or sound desk and hoping for the best, the audio has been cleaned up as best as it can be and is actually really clear, but also what's intriguing about these live sets, is that they capture the band in full flow in their early years, with different line ups giving different variations on the songs from around that time.
The extensive booklet contained within this boxset is a great read too, with band members, producers, and writers recollecting how those songs were made. From Marc Riley, the new boy in the band, recalling how he had to use a glue stick from a hardware shop and create a guitar pick from it for his first recording session as he'd lost his essential guitar playing accessory, admitting it wasn't a great start for the newbie, who subsequently went on to write some of the best material of that period and have numerous adventures with the band once settled into the line up. Also in the booklet, producer Grant Showbiz recalls that Fall gigs in 1979 were "shamanistic and misunderstood by half the audience" plus there's stories behind the revolving door of exits and new starters. 
Mark E Smith also famously said once "If it's me and yer granny on bongos, then it's a Fall gig", such was his notoriety for operating a fast turnover of band members.  Yet what those boxset demonstrates is that every line up change brought a slight adjustment to the band's sound. It may have been Mark E Smith trying to direct proceedings but each musician and songwriter, whether given a songwriting credit or not, added to that unique blend, creating the Fall sound. Even within the music contained in this extensive boxset, you can see the progression form the raw creativity of the early years to the end of the decades art rock punked-up menace.
For its previously unreleased live recordings and the beautifully presented booklet packed full of in depth insights into the world of The Fall at this point in time, this boxset is a must for any Fall fan or those simply curious about this band's early years 
The Fall: The 1970s – Out Now (Cherry Red)