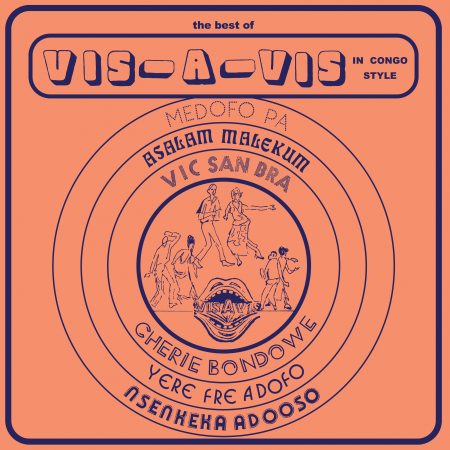 One of the joys of recent years has been the retrospective discovery of K Frimpong and His Cubano Fiestas. He was often backed by Vis-A-Vis who recorded 13 albums between 1975 and 1982. Toronto based label, We Are Busy Bodies, are now undertaking the admirable work of rereleasing their back catalogue.  In contrast to the 1977 album, 'Obi Agye Me Dofo', which was rereleased in January 2021 and in its use of cosmic synths bore a greater relationship to their work with Frimpong, 1976 album 'Best of Vis-A-Vis in a Congo Style' which is out now blends Ghanian highlife with Congolese rumba.
All six tracks are top-notch with opener, 'Medofo Pa', giving in instant indication of the quality and styles to expect. A swirly wonky organ intro, highlife guitar lines that produce the urge to skip with delight, crazily busy percussion from Gybson 'Shaolin Kung-Fu' Papra, piercing celebratory human whistles and Isaac 'Superstar' Yeboah's vocals turned up so they sound like they are distorting the recording equipment. A saxophone solo joins the fray and for someone who grew up with Western pop music the style is reminiscent of Saxa from The Beat, begging the question of whether he was influenced by Ghanian music.
Second track, 'Asalem Alekum', begins with a more relaxed groove but becomes increasingly infectious, highlighting the complex but always danceable interplay between Sammy Cropper's guitar and Slim Manu's bass. 
Showing no sign of allowing the tempo to drop, the opening vocals on 'Vic Sanbra' leap out before organ and drums weave frenetic patterns like crazed knitting needles with scampering guitars careering along.
Fourth track, 'Cherie Bondowe', was originally a hit in 1975 for the Congolese guitarist and singer-songwriter Freddy 'Mayaula' Mayoni and was banned in Zaire because it was written from a prostitute's perspective
'Efre Odofo' and closing instrumental, 'Nsenkeke Adooso', maintain the album's sense of spontaneity reflecting the common practice of tracks being recorded by the band together in a single take as separate overdubs did not become commonplace there until the 1980s. However, this approach helps conjure while listening to the album an image of dancing for hours outdoors on a steaming night.
With Analog Africa's excellent compilation, 'Essiebons Special 1973 – 1984 // Ghana Music Power House' also released this month, there has rarely been a better time to catch up with Ghana's music from the 1970s.
'Best of Vis-A-Vis in a Congo Style' never wastes a moment, making for a continually upbeat prescription to beat the winter blues.
Vis-A-Vis: Best Of Vis-A-Vis In A Congo Style – Out Now (We Are Busy Bodies)