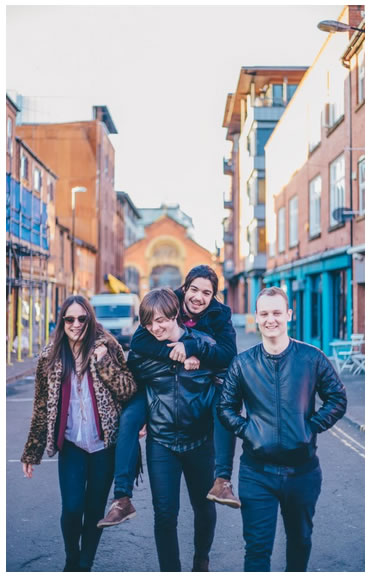 I have known these guys since the day I moved to Manchester, living in Rusholme, Big Hands became my local. I was even at one point supposed to audition to be their drummer, as Big Hands owner Scott suggested! I got to know Pedro (bassist) and all the staff in Big Hands fairly well, and was always greeted with a hug and usually a shot of Jaeger from Scott the owner. I'm sure the folks of Manchester heard about Scott's tragic death a couple of weeks ago, just 43. I'm sure this single release will have his spirit in there, either drunk, proud or most likely stood laughing at them – he was their mentor.
Now down to the single itself, take yourself back to when you read about Ozzy biting a bat head off on stage – the intro itself is like something from Paranoid, but then a beautiful Portuguese female vocalist (Rita) brings in some originality. Her voice throughout the track is nothing but spectacular, if you listen to the lyrics "If it's the love that you want, I will get to it" was a standout lyric, almost a teasing lyric in my eyes. Now Pedro is her brother, and he joins her during the chorus, screaming "Let Me Show You How It's Going Down" which as a sibling duet works better than anything Hole have released in twenty years. I suppose you will have to wait until their gig at The Ruby Lounge on 20th December 2018 to understand what I am writing about, but trust me, it works.
As we probably all unfortunately know, Ruby Lounge is closing down shortly, and this will be their last ever gig at the historic venue. You should try and make it down and witness live what I have tried to describe in this single review.
Finally, vocalist Rita has also sang the theme song for the new ITV drama series 'Cleaning Up', composed by Guy Garvey (Elbow) and Peter Jobson (I Am Kloot) which will come out on the 9th of January 2019.
Hopefully see you guys there on Thursday!
Louie Louie: Play House  – Released Thursday 20th December 2018
Louie Louie play The Ruby Lounge Thursday 20th December 2018