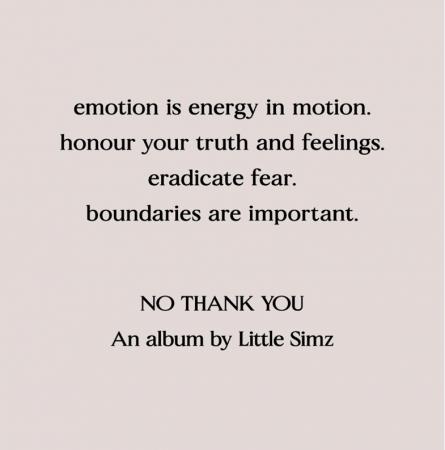 In Autumn 2022, 'Sometimes I May Be Introvert' deservedly received the Mercury Music Prize, the culmination of a year of awards combined with record sales that finally reflected critics' response to Little Simz. The release as a single of that album's 'How Did You Get Here' felt like her basking in anticipated success while celebrating the hard work that had fostered the triumph. Following such a career defining release can be a challenge. Normal industry practice would be for months of hype together with teaser single releases so it was a shock when Little Simz slipped out 'No Thank You' without any fanfare into a Christmas market saturated with festive reissues and family-friendly compilations. It fits in with the guerrilla releases strategy of her regular collaborator, Inflo, in his work with Sault. Despite the low-key approach, it is immediately clear that 'No Thank You' is a fully realised album, not some short-term Christmas gift.
It shares common ground with 'SIMBI' in Simz's command of flow and cadence, Cleo Sol's soulful choruses and Inflo's magisterial musical arrangements. Opener 'Angel' sees her in reflective mood but launching into one of the album's main themes, an understandably jaundiced view of the music industry and its impact on artists' mental health:
"I can see how an artist can get tainted, frustrated
They don't care if your mental is on the brink of somethin' dark
As long as your cuttin' somebody's payslip
And sendin' their kids to private school in a spaceship"

'My Heart's On Fire' approaches similar themes but from a different angle looking at navigating celebrity and avoiding the temptation of financial excess. However, 'No Thank You' avoids overt solipsism as Simz tackles the community's daily challenges. 'Who Even Cares' has a gentler soul funk vibe and an autotuned Simz vocal with the narrator working double shifts to pay the overdue rent. Crashing in on a wave of samba drums and chants, 'X' asks "If thе law ain't for us, who's policin' the police?" while throwing in a magnificent gospel chorus and swelling orchestration. 'No Merci' celebrates being "unapologetically black" despite all the structural and attitudinal obstacles faced:
"Bein' stuck up in the matrix, it's a rat race
Givin' 'em my truth and they gave us blackface
Why you wanna make a mockery of my pain?
Way too long we been carryin' the shame
If we knew we had magic, would we put needles in our veins?"
Inflo's inventiveness is a constant source of delight. 'Gorilla' bursts in with an epic, dramatic Bond theme tune style introduction comparable to 'SIMBI' opener 'Introvert' in its scale. A groovy double bass line sets the rhythm, the choir chiming in with the instruction, "Higher", the song is absolutely huge.
'Silhouette' has little synth squiggles amidst string flourishes and outbursts of bombastic orchestration, the way beats occasionally drop out increases the dramatic impact. Its cinematic elements recall Isaac Hayes' finest compositions. 'Broken' is an especially inspired track, Simz's rap taking in the taboo of mental health in the black community, generational trauma, absent fathers, being a refugee and precarity weaved around a repeated Cleo Sol chorus, before a Dorothy Ashby influenced harp and string extended outro. 'Sideways' blasts in with sonic outbursts while Simz claims her pen is psychedelic. Closing track, 'Control' has a sparser feel, a piano ballad with an aching chorus from Samuel Crowe while Simz gets mellow, learning compassion and patience.
Whereas 'SIMBI' included a few linking sketches among its 19 tracks, 'No Thank You' is made up of ten fully realised songs that flow as a continuous piece. It is a constant feast of delights, from Simz's wordplay and Inflo's outrageously mellifluous musical constructions to Cleo Sol's impassioned singing. In response to the new album from Little Simz, the only reasonable answer is an emphatic Yes, Please.
Little Simz: No Thank You – Out 12th December 2022 (AWAL Recordings)