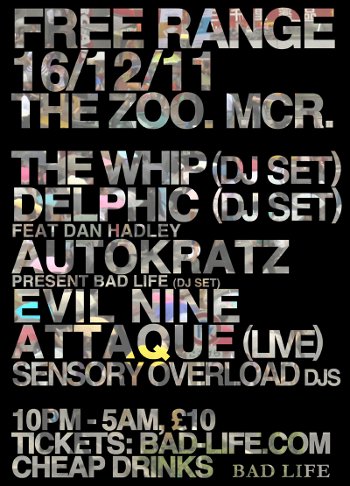 London based electro/techno label-of-the-moment Bad Life is behind a new Manchester night 'FREE RANGE', which launches at THE ZOO on Friday 16th December 2011. Bad Life acts AUTOKRATZ, EVIL NINE & ATTAQUE are joined by local darling's THE WHIP and DELPHIC for a Christmas do.
The show will see THE WHIP mark the end of a stunning year for the band; a year which saw the release of their critically acclaimed second album 'Wired Together' and they join us on the 16th for the bands Christmas party. AUTOKRATZ make their return to Manchester after last year's fantastic Warehouse Project set, showcasing their new AUTOKRATZ PRESENT BAD LIFE set. This show focuses on the more banging side of the production duo, including their recent Heart Attack Man EP, which is Mixmag's tune of the Month for January.
EVIL NINE are in fine form at the moment, and their recent Bad Life EP's have been massive, whilst future-techno's rising star ATTAQUE makes his Manchester debut (and worldwide live debut). Finally DELPHIC 's Dan Hadley breaks from the bands studio sessions to complete a remarkable line up for this show.
Bad Life say "We've had an amazing first year. We've been extremely lucky to work with some of the most exciting electronic music around; Attaque, Burns, NT89, TWR72, Evil Nine, Savage Skulls, Douster, Dems, Sovnger, Les Petits Pilous, and Tai have all contributed to making Bad Life what it is. Big support has come from Tiga, Erol Alkan, Diplo and A-Trak. On 16th/17th December we will host parties in Manchester and London to celebrate our momentous first year."
THE ZOO, MANCHESTER
126 Grosvenor Street, Manchester, M1 7HL
10PM – 5AM
THE WHIP (DJ SET)
DELPHIC (DJ SET)
AUTOKRATZ
EVIL NINE
ATTAQUE (LIVE)
£10 TICKETS, BAD-LIFE.COM