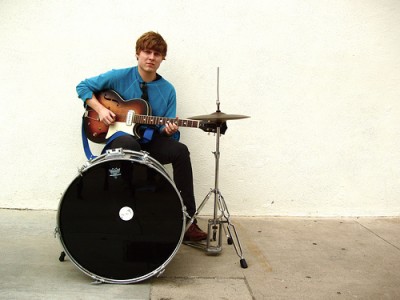 – THE DEAF INSTITUTE, MANCHESTER –
Starting with Former Bullies; a scruffy sounding band consisting of two guitars and drummer, they play a swift set of songs, all using prolonged feedback and driving guitar rhythms. I think their whole dismissiveness of perfection adds to their set as you see the singer mouthing, "what are you playing?" to his fellow guitarist. But, they carry on and end in a noisy yet content mess of sound.
The Waiters are on next; another three piece. Rather a new band only forming in May of this year but even so are able to produce serene sounds of shimmering and shiny songs. There is nothing particularly original sounding, a relapse on surf pop, but nonetheless they do it well. The vocals airily float over the sparse drum sounds and preppy guitars. They show a good form of restrain, everything is seeped in ease creating a loose easy set and very enjoyable to boot.
Ty Segall does not allow himself to be idle, he is the lead singer of Epsilons, the drummer for Traditional Fools, the every once in a while drummer for Party Fowl, and also the occasional guitarist/drummer for Sic Alps. Busy bloke eh!
They start the tonight's set with 'Lovely One', which I was surprised at as its one of their less lively and immediate songs but possibly a good one to entice the audience. The pretty chords chime and string away and the whole sound seems full leaving the melody of front man's Segall's vocals to roam effortlessly on top. He has the ability to make his vocals sound choked yet clean. There's a very nasal quality to his sound, as if he's singing down a telephone wire, there just seems to be a distance in his deliverance, making it all the more interesting. Just the right amount of reverb is used on his vocals leaving some grain to come through.
The set gets heavier, 'Cent' 'Girlfriend' and 'Melted' showing off their vigour. A definite feeling of togetherness is apparent throughout the set. The drums of Emily Rose Epstein are pitched rather strangely, the snare high creating a cutting ring. Most bands wouldn't be able to get away with it, but the etch-a-sketch nature of the songs suit the tone and it adds to the rough edges of the sound. Stood to the left of Epstein is bassist, Denee Petracek whose basslines march like clockwork and tirelessly wind round and round creating a drive and agile swagger. You wouldn't have thought that such a girl with Golden Spaniel hair would play in such a band, but she does, which is nice. To the far hand side Charles Moothart plays away on his guitar, creating razored sounds.
Energetic and persistent you feel rather dazed by the end of the set as they produce such a high level of energy that, when suddenly cut from the room, you feel a little lost.