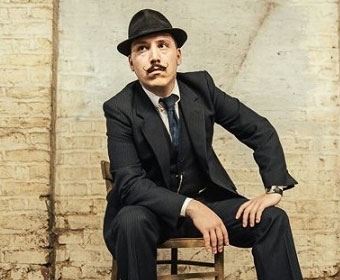 – NIGHT & DAY CAFE, MANCHESTER –
So, if you weren't into the British rock music in the early naughties, they you probably may not be familiar with the work of Jamie Lenman. Basically, Jamie was in one of my favourite bands, Reuben, a post-hardcore trio from Surrey who were super heavy and riffy but also knew how to do big choruses and in most circumstances, eye wateringly good melodies.
It's been about 5 years since Reuben decided to going on 'hiatus', and with the other members of Reuben going on to other bands and projects, Reuben lovers were praying that our hero; frontman and chief songwriter Jamie Lenman would come back once more. Luckily for us, he came back just a few months ago with a double album called Muscle Memory' which is 50% balls out riffs and noise, 50% melodies and choruses; from big band to country.
Tonight we're at the Night & Day Cafe which is the fullest I've seen it in a long time. It's a sold out show as part of Jamie's promotional UK tour for the album. Everyone here looks about my age in their mid-twenties, some donning their now faded and slightly snug fitting Reuben tees of old, others cracking out shirts from other early '00s Brit-rock heroes from Hell Is For Heroes to Sucioperro.
To rapturous applause, Jamie enters the stage, looking like a Victorian gentlemen in a full suit and villain-like moustache. He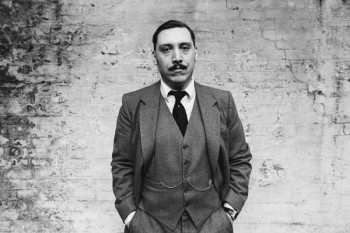 opens with a lovely little ukulele driven song called 'Shotgun House' which immediately begins a crowd sing-a-long. He is then joined by the "Heavymellow band", also clad in suits and moustaches who then rip everyones faces with the face-melting heaviness of album opener 'Six Fingered Hand'. Although the crowd love singing along and clapping away to the super catchy pop tones of 'Pretty Please' and hoe-down esque 'If You Have To Ask You'll Never Know', it's when Jamie cracks out his electric and cranks up his amp that gets this crowd really riled up.
So, the heavier side of the record is amongst Lenman's heaviest material to date and live, it's even heavier. Tracks like 'One Of My Eyes Is A Clock' and 'All The Things You Hate About Me, I Hate Them Too' are full of bile and anger, with earth shattering riffs, bone crushing blast beats and Jamie's blood curdling growl. Of course, Jamie is far to kind to us and treats us to a couple of Reuben tracks, first album tracks such as 'No One Wins The War' and 'Moving To Black Water' still sound as fresh and as energetic as they did nearly 10 years ago, particularly the latter's head nodding breakdown!
As he thanks the crowd for their support, Lenman throws somewhat of a wild card and plays early Reuben tune 'Shambles' which brings the set to heavy yet emotional close. Tonight, Jamie Lenman has been re-realised as the underground hero of British rock music. A truly excellent frontman and songwriter who's just put a smile on my face to last to the end of the week.