From time to time, one of our contributors will recommend an artist/band they think deserves to be brought to your attention. No record labels, PR companies, bands or band's management will ever have made these recommendations. It is simply one music fan putting their taste on the line in the hope of sharing good music. The questions are intended to give just a basic introduction to possibly your new favourite artist/band.
So without further ado, let's crack on with another introduction, in which Silent Radio's Natasha Johansson recommends Embers for your audible delectation.
*****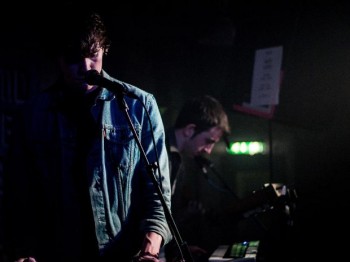 Who are ya? / Where are you from? 
We are Will, Nathan, Steven and George. We formed and rehearse in Manchester.
How long have you been doing what you're doing now?
We've been a band for a little over 18 months now.
Is being a musician your full time job?
Sadly not at the moment. We're creating all our music on the back of full time jobs. Long days and late nights are something we're far too familiar with.
Are there any obvious influences in your music?
We are drawn closest to emotive music. Music that has been written with the intention of stirring a feeling or thought – music that is textured, embedded with depth and layers, and totally consuming. This is why film scores have always been a source of inspiration for us – the works of composers such as Hans Zimmer, John Murphy and artists such as Brian Eno and Sigur Ros heavily influence our writing and will continue to do so. They're masters of creating beautiful atmospheres and we hope to bring that to our music.
How would you explain your sound to someone's 90 year old grandmother?
Repetitively, I assume.
Apart from yourself of course, what other band/artist would you recommend our readers check out?
We played recently with Halls who were excellent. Outfit from Liverpool are also very good.
Best place for people to find out what you are up to?
Our website www.embersembers.com or http://www.facebook.com/embersembers
Anything to declare?
We recently were named Guardian new band of the day on December 4th, check it out here: http://www.guardian.co.uk/music/2012/dec/04/new-band-embers