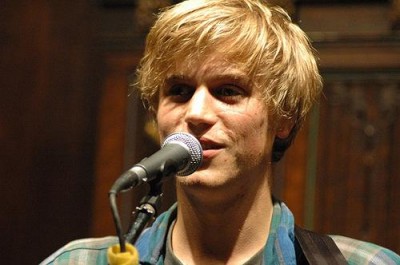 – CLUB ACADEMY, MANCHESTER –
Two highly acclaimed bands from the underground music scene tonight: the London based and highly talented Melodica Melody and Me (MMMelodica), and the humble genius, with awe inspiring musical talent, Johnny Flynn, who is lyrically poetical, raw, articulated and on point. It is a sell out gig, so my ignorance of Johnny Flynn carries a little guilt, a guilt that went fast.
One female singer and a drummer down, MMMelodica present a scaled down acoustic set. How-to-the ever, their music has developed since the last time I saw them, and although the word eclectic is overused when describing bands, they truly are, using and fusing various styles (dub undertones with rich melodies weaving on-top) and instruments: CHARANGO! After drinking with the band I manage to capture the keys and melodica player Emilio with my tandem! This was in order to understand the finer points of the philosophy of psychogeography, described by Guy Debord as, "The study of the precise laws and specific effects of the geographical environment, consciously organized or not, on the emotions and behaviour of individuals." This was in direct contrast to MMMelodica, who had produced a relaxed and honest sound that transformed the incoherent venue Club Academy. They were a perfect set up for Mr Flynn & the Sussex Wit.
Johnny Flynn, I learnt, won a scholarship to study at a school where he was granted music tuition in various different instruments. He and his band are like an English version of Bright Eye, but less pretentious and much more talented.
The first thing that hits me when they play is that everybody knows his lyrics. In fact, so overly avid are the crowd that some even 'shush'. Secondly, the man plays more instruments than there are Shreddies in my bowl, he even swaps them in-between singing; at one point crooning a verse whilst playing guitar and then on the interlude adding a trumpet melody. Lyrically he is incredibly poetic with the content as diverse as a mad mans book shelf. He is a really inspiring musician to watch live and I am currently listening too his music and tales daily.