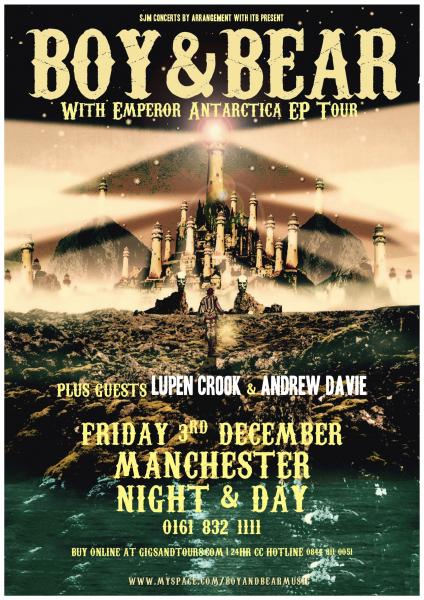 – NIGHT & DAY CAFE, MANCHESTER –
Embarking on their first headline tour of the UK, Indie folk–rockers Boy & Bear originating from the much warmer shores of Sydney, Australia brave our minus temperatures and the sell out crowd of Night & Day. These guys have an impressive CV for 2009/10 having supported recent folk darlings of the moment Laura Marling and Mumford and Sons for the UK and Australian legs of their tour, getting signed to Universal and building up quite the following in OZ – not bad I must say!. Having met on the music scene down under whilst playing for different bands the lads decided to get together and do their owns stuff, all members singer song writers in their own right, which promises great things for their songs, I hope to not be disappointed.
I half expect the band to arrive on stage wearing woolly hats rather than flat caps but not one was in sight. The crowd squeeze themselves tightly around the front and I welcome the body heat. The band gets straight onto it opening with 'The Storm' followed by 'Blood to Gold', the crowd obviously recognising both and dancing ensues from the offset. The songs have a wonderfully rich energetic sound coupled with near perfect harmonies and are both an absolute treat to my ears. The band are clearly influenced by Fleet Foxes and Mumford and Sons – I'd go as far to say if the two were to have a love child Boy and Bear would definitely be it! Don't get me wrong this is no bad thing, best of both worlds in my opinion. It would certainly have been interesting to see them support Mumford and Sons and how their sets compared next to each other.
Dave Hosking is the perfect charismatic front man although his geography isn't so great as he gets a bit confused about Ireland and the UK – I think this can be forgiven as personally I get hazy about anything South of Manchester. Suffering technical difficulties from the start with drum mics it's frustrating for the listener but this hasn't fazed Hoskings or the rest of the band who deal with it professionally and carry on until it eventually gets fixed, no drama queen antics here. The big tunes continue with 'Rabbit Song' which begins with beautiful harmonies and takes you on a journey through layers of sound – I think this is my favourite of the set.
The boys attempt something dangerous – a cover of 'Flume' by Bon Iver, I'm always dubious about covers by artists who are of the same time and genre, especially by such a folk heavy weight. Thankfully I don't have to worry for long, with the added vocals of their friends who join them on stage there is a fullness to the song which is very different from the stripped down original, it's a definite crowd pleaser but I still prefer the original – sorry guys. Hosking remarks we (the crowd that is) are the rowdiest of the tour so far, certainly the most 'heckling', although I think this was referring to the many shouts for the Crowded House 'Fall At Your Feet' cover which doesn't materialise, rather than actual abuse as people are clearly enjoying the gig.
The lads don't do encores which I like – It's all got too expected these days but they don't miss out the song most people will have trudged through the snow to hear – 'Mexican Mavis', it's getting regular air play on BBC 6 Music and is the song which drew my attention in the first place, again the skillful tightness of the band and the haunting vocals are just magical and I'm totally gripped. I leave feeling we will definitely be seeing and hearing much more of these very talented young Aussies and I will certainly be keeping my eyes peeled for when they come visiting our shores again.